Gorgeous in Granite: Benefits of Bringing Granite Into Your Next Home Improvement Project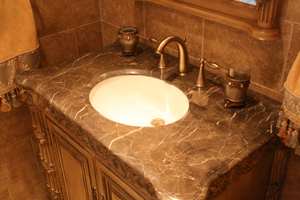 A popular trend today within newly built homes or remodel projects is to have granite countertops installed, whether it is in the kitchen, bathroom or bar. Granite is a beautiful addition to any space because of the natural beauty in the different veins, specks and swirls that makes each piece of granite unique. When you're getting ready to plan your remodel or new project, discuss with your contractor or professional granite fabricator to find out how you can work this gorgeous stone into your space. Here are many other reasons why granite is an excellent choice to have in your home:
Durability: Granite is an awesome option for a busy room such as your kitchen. Your countertops will see hot dishes, spills and scrapes; granite is strong enough to stand up to all of these without changing its appearance. Granite is very dense, the least porous of all the stones and is also treated with a sealer for added protection. Because of the natural qualities of the granite and the added protection of a sealer, your counter will not be left with marks after a hot pan is placed on it and will not scratch if you cut directly on its surface. If you're worried about whether or not the granite will chip or crack, know that if the stone can make it through the fabrication process unscathed, it will never have an issue under normal use.
Decorative: Granite is available in hundreds of colors so no matter what your existing decor is or what you're updating it to, there will be a granite countertop available to complement your style. When you visit the showroom of your granite supplier, bring with you some samples of the colors going into your new space so the salesperson can assist you in making the right choice. Knowing that no two slabs of granite will ever look the same is reason enough to bring this unique look to your decor.
Sustainable: An awesome benefit of granite is that it will increase your property value because it is such a desired amenity in homes today that you will be able to sustain the worth of your investment. Because granite is so tough, you will not need to replace your countertop for years to come, making it a worthwhile investment. Granite also doesn't require any special chemicals to maintain it; simply use soap and water or some glass cleaner for an easy maintenance routine. Erik Braunitzer is a member of the creative writing and web relations department off-site for Prudential Douglas Elliman. Topics of interest include home improvement, interior design, sustainability, real estate and much more.
For more information, feel free to reach out to him on twitter @Ellimanbraun