Give Your Bathroom a Celebrity-Like Look with a Spa-Like Feel

It feels nice to be pampered from time to time, and having a bubble bath in a luxurious looking bathroom is the ultimate indulgence. What's more, a bit of glamour will enhance the room's appeal and will be a real feast for the eyes. However, you don't need to be earning millions to make the room fit for a celebrity. All it takes are a few simple changes. Some features cost more than others, but by implementing some of these changes you'll be amazed at the grand effect they have.
Here are a couple of things you could do without spending a fortune.
Bathroom vanity
This is the focal point of every bathroom. Whatever the reason of your visit, you always end up standing in front of bathroom vanity, so it had needs be elegant enough for your liking. The bathroom vanity speaks volumes about the owner, and you should choose wisely. Sometimes even a piece of furniture can serve the purpose of making a statement. The choice is all yours.
The bathtub
If you really want to add a bit of glam and luxury into your bathroom, then you simply have to buy yourself a claw foot bathtub. After all, there are so many classic Hollywood scenes taking places in this hollow shape. Whatever point they were trying to make (sadness, joy, romance, a proper wash), it was emphasized by placing the character in a tub. Indeed, a bathtub is there to enhance everything you feel.
Installing a new bathtub is quite an investment, but if you feel like changing the tiles then we're talking about a full bathroom makeover. In that case, you'd better know a few tips and tricks to save you money when remodeling this room.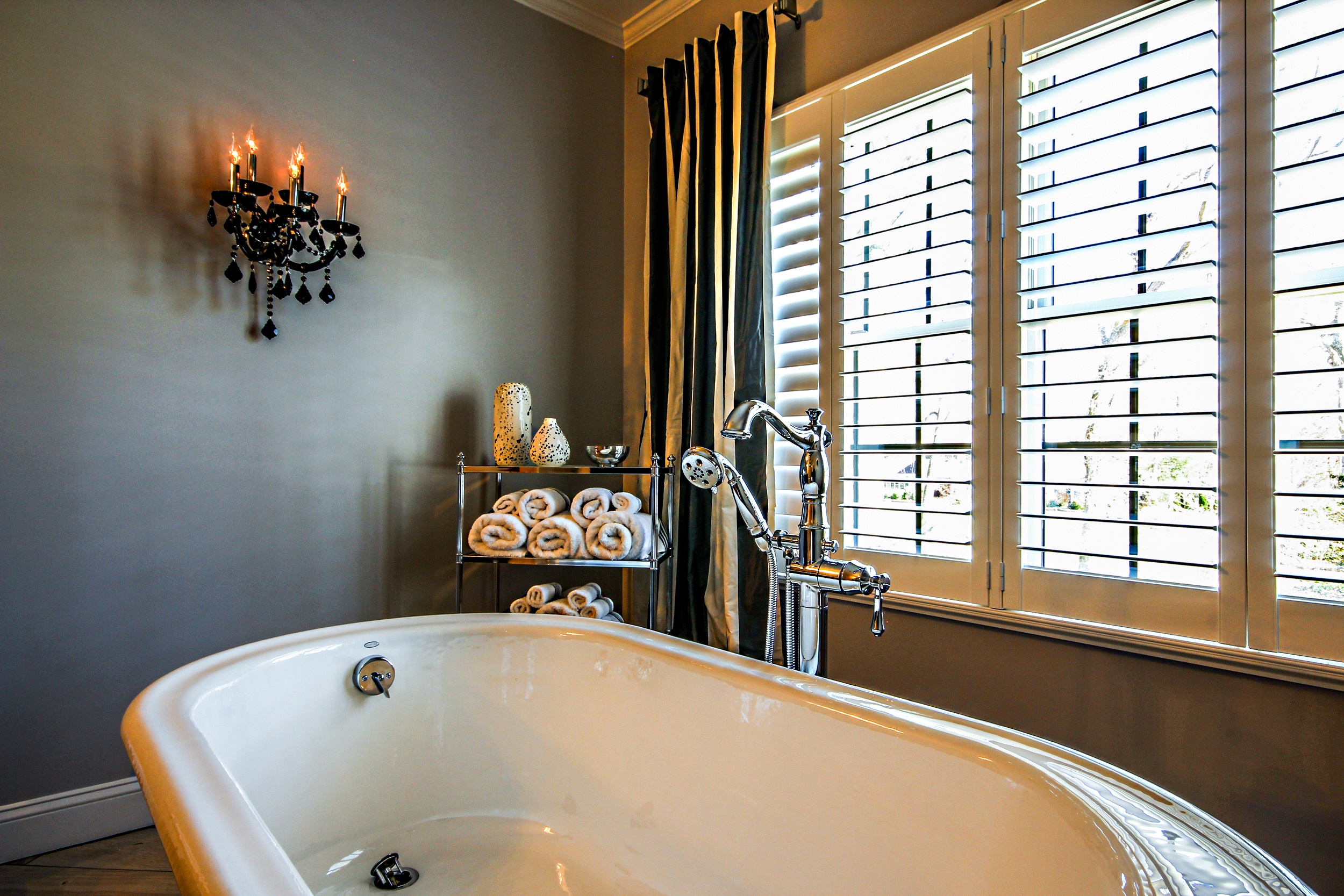 New towels
Indeed, it really is that simple. You probably have a couple of them which have lost softness and have a faded color. It's time you threw them out and bought new ones. This little detail can make all the difference to the look and the feel about the place. Some of them can even be placed just for decorative purposes.
Avoid packaging
Having an extra roll of toilet paper nearby is quite handy, but in which magazine have you see them still in their packaging, probably none. By doing something as simple as removing the packaging from sight, you'll add a note of luxury to your bathroom. Even if you place the rolls in a nice-looking basket, it will do wonders.
Declutter
Getting rid of all the plastic wraps isn't going to be good enough if the room is still filled with products. Only the essential items should be visible, while the rest should be neatly stacked away in cabinets. Once again, you probably haven't seen any traces of cleaning supplies in that magazine, have you? Detoxing your bathroom is another way to keep your bathroom healthy.
Accessories
There's nothing elite or celeb-like about an old soap dispenser, is there? For this reason, buy a new elegant dispenser to match your beautiful vanity. It can even have some bling on it. Replace the old bath mats with their fluffier versions, or small rugs. Thirdly, faux flowers are simply perfect for giving the bath a fresh look. You can find lots of them that look just like the real thing.
Add some art
If possible, hang a painting on the wall and the room will remind you of a boudoir. A picture is something that is not necessary to have in the bathroom, but it's a real sign of elite status. You do not need to drill into the walls and tiles, simply use picture hanging strips to stick them to the wall.
The colors
Generally, white is the most recommended nuance for the bathroom, and you can never go wrong with it. In addition, grey is the latest trend color which has become an absolute hit with modern bathroom renovations, in varying shades.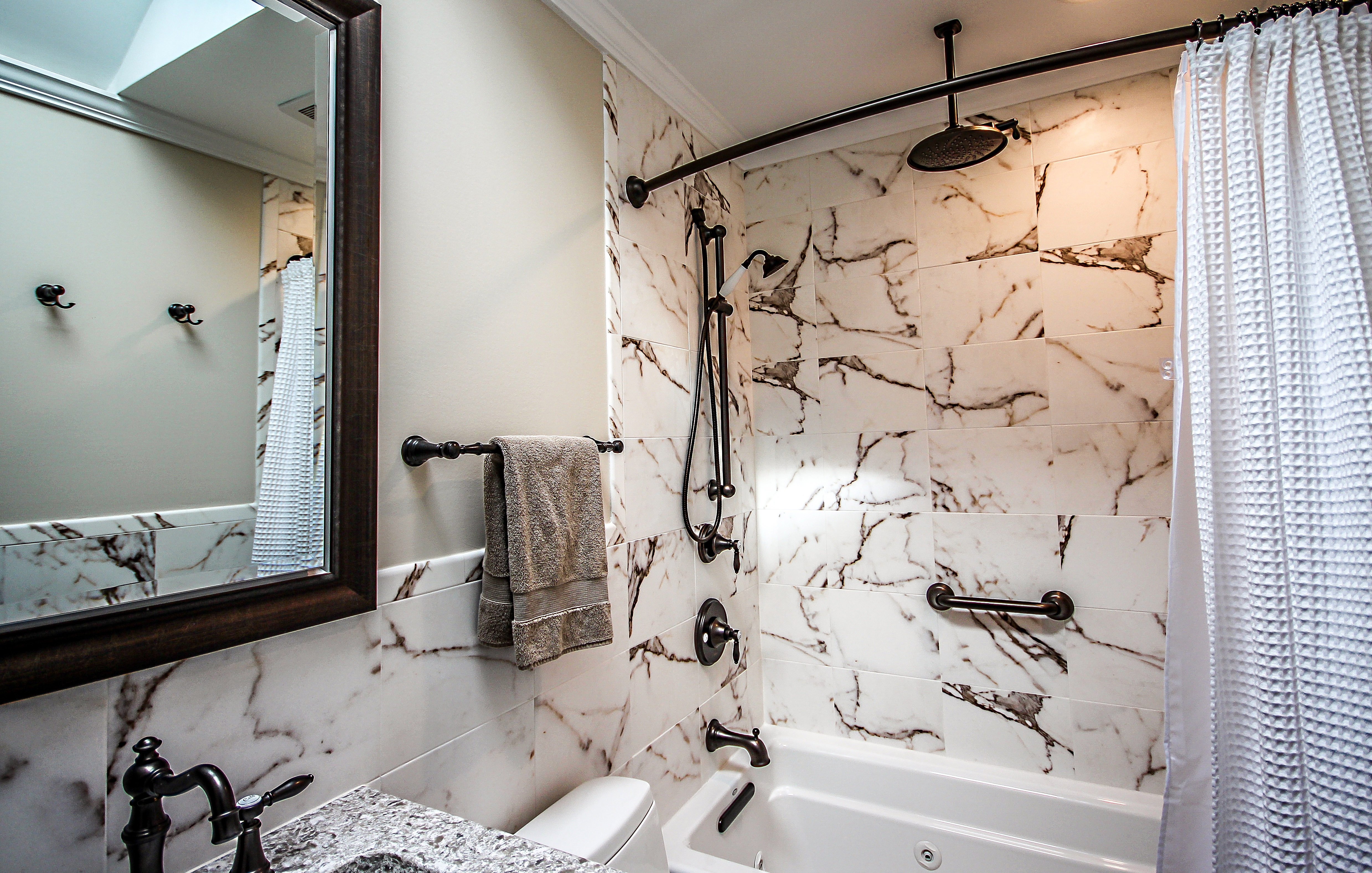 Marble and brass shelves
For a real touch of luxury, get yourself a marble shelf or two. There's probably some space for them and this simple detail looks amazing and expensive (without the price tag). You would probably expect to find this material in a posh bathroom, wouldn't you? The simplest DIY can also do the trick too – just use some contact paper.
Lighting
In order for all these changes to be even more prominent and truly show how your bathroom has transformed, proper lightning is essential. Take a good look if your bathroom is getting enough light of any kind. Now that we have reminded you of it, you'll probably want to enhance the features.
There you have it. Choose the most practical alterations, and you'll be pleased with the immediate, impressive effect on you and your guests
About the author: Sofia is a passionate writer from Sydney. She also enjoys decorating houses and engaging in home renovation projects. That is why she loves sharing her experience and advice with other people through her writing. Besides this, she loves technology and gadgets which can help us get through a busy workday. Follow her on Facebook or Twitter.