Create a Gorgeous Eclectic Bathroom with These Design Ideas

If you're a lover of all things interesting and unique, and you happen to be stoked on redesigning your bathroom, you may want to consider the charms of an eclectic style. As it's characterized by an effective and balanced mix of different details originating from several different design styles, eclectic trend can be a great way to make something truly special out of a generally small bathroom space. Of course, you're free to choose different styles that you like, but the most common combo usually involves vintage and contemporary details. Still, it's all about your vision and creativity; that said, eclectic design trend may be perfect for an artistic soul.
Muted colors
You may not have expected this, but muted colors work exceptionally well in eclectic bathrooms. Whichever shade you choose to be the dominant one, as long as it's muted, it can go well with both the modern brights and darker vintage-like items. You shouldn't add too many colors, though. So, a muted wall shade should be matched to the color that belongs to your eclectic design details as well as the other accessories you include in the mix. Muted greens and blues (and all their variations) generally work best, in this case, together with white, of course. But, in case you want to keep your bathroom clean, simple and modern, eclectic design can be achieved rather effectively with heavily patterned waterproof wallpaper or tiles.
The concept of furniture
One of the main characteristics of eclectic bathroom design is the introduction of furniture for a seemingly vintage look. For instance, this often means the vintage-inspired chair next to the tub, wooden cabinets and crates for storage as well as old-school vanities for the sink and counter area. When smaller details are concerned, mirror frames, light fixtures and covers can be embellished in a way that's more suitable for another room as well as another era. This particular trend involving the furniture looks exceptionally well and impactful in an otherwise clean, modern and sleek bathroom. And, if you're especially interested in creating something striking and bold, you may want to try combining the urban industrial style with the vintage elements.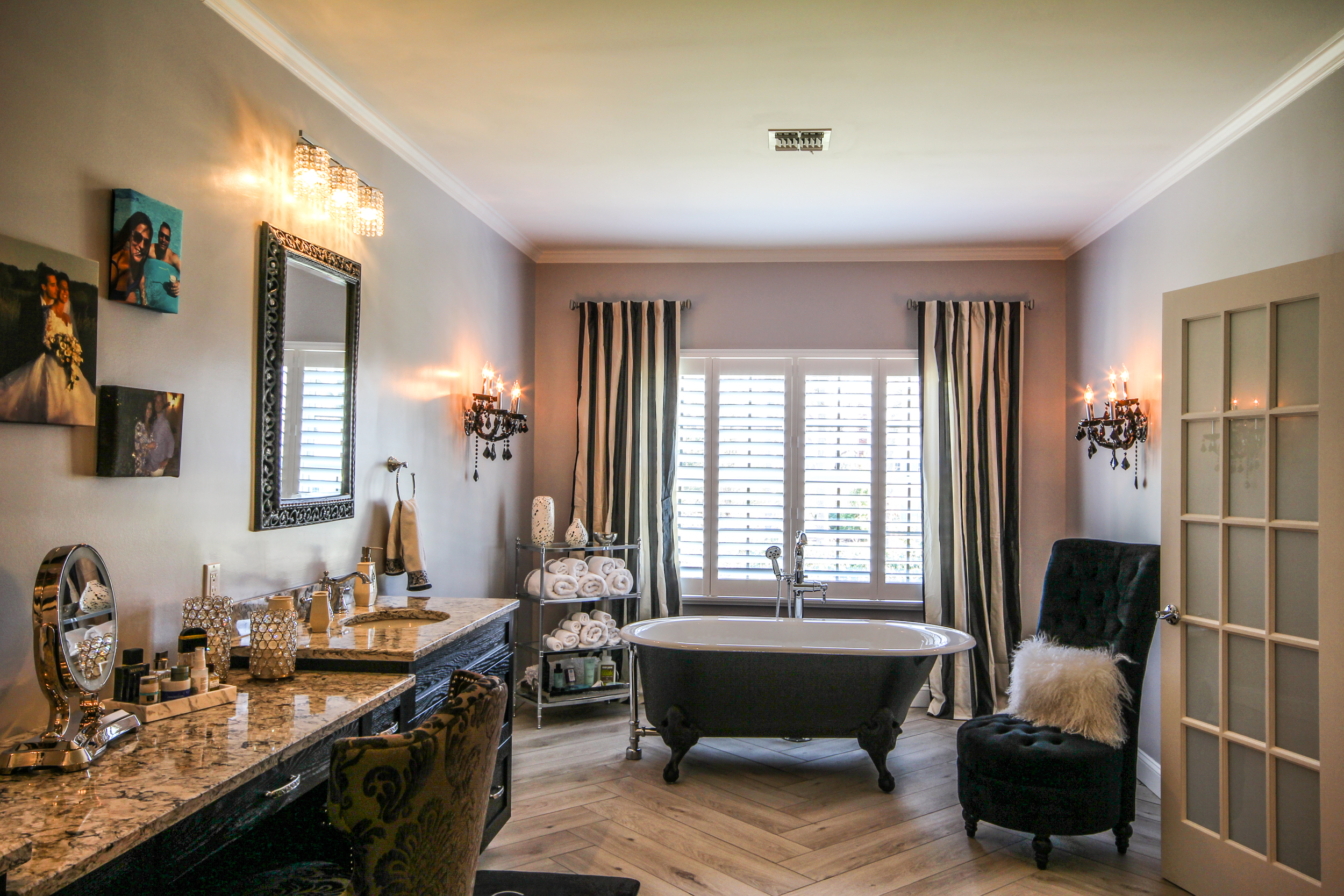 Bathtubs are all the rage
You can still create an eclectic bathroom with a shower, but if you want to go all the way and make the most out of this trend, a nice bathtub should be your choice. After all, there are plenty of free-standing tubs on the market, in various shapes and designs. Obviously, replacing a tub would require the work of a professional plumber, so keep that in mind. And, if you decide to take this step, consider the possibility of replacing the fixtures as well so that they can match the look you're going for a bit better. In case that seems a bit excessive yet, you do want a certain makeover, you can always go over your pipes and fixtures with a waterproof metallic spray paint (gold, rose gold, antique gold, bronze, etc.).
Fill up the space with artwork
Eclectic bathroom design means that you have the freedom to introduce plenty of details and accessories into this space. In general, filling the walls with artwork is the most popular option. You can go the more 'romantic" way and hang just one large scenic painting or opt for the more gallery-like approach with plenty of smaller artworks hanged together. The latter can turn into quite a personal project as you can basically print whatever you want and frame it. This means that there's essentially no limit to the styles you can introduce through artwork and the vibe you wish to create. Also, consider what would look better – a bunch of frames in the same size, a bunch of frames in different sizes and same shapes, frames in different shapes and same sizes, or a bunch of frames all in different shapes and sizes.
Play with textures
So far, you have probably guessed that you can really go all out with an eclectic bathroom. This also means that you can mix and match different textures to your heart's content. In general, wood, metal, ceramics and glass are common textures in an eclectic bathroom. It's up to you to add even more if you wish. For instance, different paint techniques can create wall texture and so can certain wallpapers. What's more, if you already plan to have a seating area, the upholstery, covers and cushions can introduce warmth. And there's always the possibility to bring the rug into the design story as well.
Designing an eclectic bathroom is really fun, personal and creative, but it can also be challenging in a way. Even though the whole concept is a bit over the top and eccentric, there's still a chance of going overboard with too much clutter and one too many details that will simply cross the line from eclectic and unique to messy and gaudy. That said, make sure to take a good look at your design progress every step of the way. This will allow you to feel the whole concept and vibe better so that you know when to stop.
About The Author: Diana Smith is a full time mom of two beautiful girls interested in home decor and latest DIY projects. In her free time she enjoys exercising and preparing healthy meals for her family.