What's Hot in Bathroom Design

Scaling of Elements
Shapes, actual and implied textures, along with the placement of fixtures are being used to create scale. The overall composition of kitchens and baths is being defined by a sense of scale, which is both functional and visually appealing. An irregularly textured pebbled wall, marbled surface in glass tile, reflective metallic material, or symmetrically hung pendant lighting directs the eye around the room and contributes to a balanced space. Distinctive wall coverings, tin ceilings and the implied texture of a pronounced wood grain are all stand-out details that are being seen as contributors to the balanced scale of current bathroom designs.
Color with Energy
Bold colors are creating a vibrant splash in room palettes for 2010, with rich blues, purples, greens, and citric yellow making their confident appearance in kitchens and baths. Colors exuding emotion, acting not merely as a passive backdrop for the room, but bringing life through lighting, wall colors, and wood tones, are profoundly impacting the most innovative bathroom designs. Colors from nature combined with others more synthetically blended, are inducing a feeling of movement and motion throughout the room through sharp contrasts.
Space Subtleties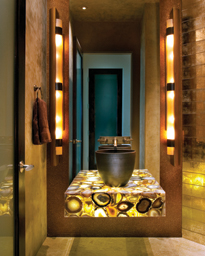 Fixtures once confined by location are now incorporated into kitchen and bath designs in almost limitless ways. This freedom in the use of space allows designers to create design-driven room plans rather than those driven by necessity and space solutions. Floating vanities and wall-mounted toilets allow an unobstructed and spacious feel to a bathroom, while appliances that are stacked and positioned within islands are contributing to functionality in the kitchen by bringing together task space with the right appliances.
Japanese Influences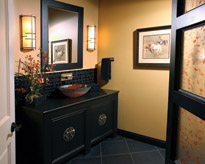 The impact of Japanese design can be seen very subtly in clean lines, open spaces, and neutral color palettes with bold splashes of color in select areas. More apparent Japanese influence is showing up in designs across North America, relying often on one strong anchor piece of Japanese origin. Artwork, Japanese antiques, and the traditional qualities of Japanese culture are at the core of some compelling kitchen and bath designs. The cultural effects seem not only to be additions or decorations to the design, but are deeply embedded as a primary ingredient.
Art Integration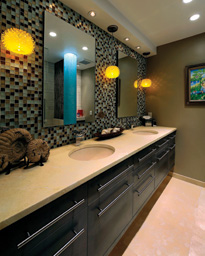 An intense level of personalization in kitchen and bath design is taking different forms. The introduction of a favored piece of art perhaps a framed painting or an antique sculpture, as the basis for a design creates challenges, but also offers guidelines and solutions to color and material choices, as well as selections of theme. As artwork itself is personal to the owner, this presents an immediately intimate quality to the space. This method of integration allows the designer to fold all other aspects of the room around the treasured piece.
For more hot bathroom design ideas visit National Kitchen & Bath Association