3 Home Improvement Projects to Take On in the New Year

You've been living in your house for a few years, and it's starting to show. Instead of spending another year in a house you're not quite satisfied with, why not commit to finally tackling your home improvement to-do list? Here are three projects that will turn your house into a place you're proud to call home.
1. Upgrade Your Floors
Are you sick of looking at scuffed, stained, and scratched floors? Your flooring has a big effect on the overall appearance of your home, so if you're looking for a high-impact project, this is a good place to start.
While you can always spruce up existing floors, especially if they're hardwood, some flooring choices are better off replaced. And at an average cost of $1,424 to $2,464, new flooring is a relatively inexpensive way to dramatically improve your home's look.
If you're sporting frayed and stained carpet, buckling linoleum, or cheap laminate that's starting to fade, you're better off replacing the flooring than trying to fix the problem. Since home buyers aren't fond of these flooring materials, you're unlikely to recoup the cost of repair when you sell your home. By upgrading to a more popular flooring option, you'll enjoy a home that looks better now and at selling time. This guide from Consumer Reports will help you choose the best flooring option for each room in your home.
2. Boost Curb Appeal
Curb appeal isn't just for sellers. For a home that puts a smile on your face every time you pull into the driveway, work on your home's curb appeal this year.
Improved lighting is the fastest way to turn a dim entrance into an inviting facade. Replace dingy front-door lighting with a modern pendant or sconce, and light the pathway with low-voltage landscape lighting. Don't have a front walk to speak of? Adding a simple flagstone walkway is an easy weekend project, and it provides the perfect centerpiece for evergreen shrubs and seasonal flowers.
Don't stop your efforts at the front porch. Add interest to your entryway by repainting your front door and hanging house numbers that are easy to see from the road. (Not sure how to mount house numbers? Hunker will show you how.) Add front-door décor that you can swap out with the seasons, using an over-the-door hanger or ribbon to avoid hammering a nail into the front door. Whenever doing DIY projects, make sure that you're using the best tools, like a cordless drill, tape measure, or hammer.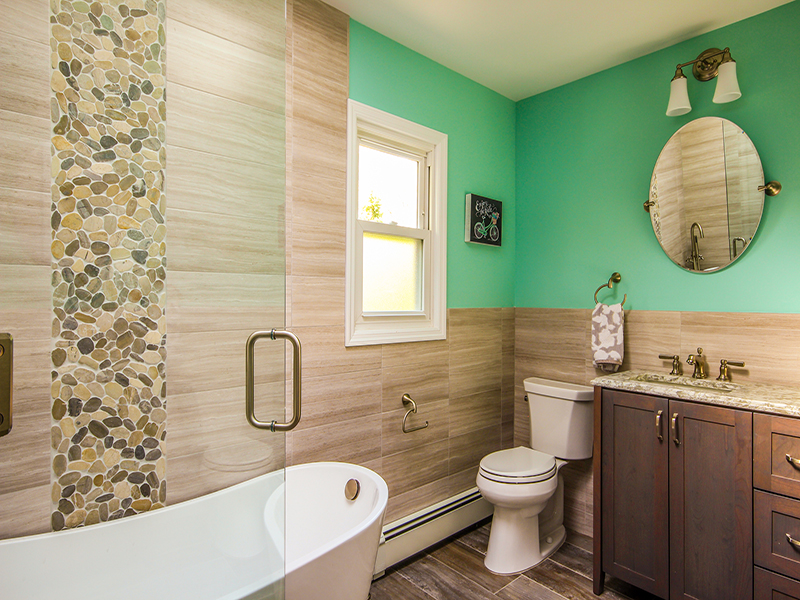 3. Create a Spa-Like Bathroom
The bathroom is the underappreciated workhorse of any home. You spend time in it every day, but how often do you pay attention to its appearance outside of weekend chores? When you transform your master bathroom into a spa-like setting, you'll start every day feeling relaxed and refreshed.
A full bathroom overhaul can be costly, but you don't have to spend a lot to change your bathroom's appearance. If your budget is on the low end, you can still make a big impact by painting the walls an earthy color, installing a rainfall showerhead, and furnishing the room with plush towels, high-end bath products, and soothing essential oils. Have more to spend? Bring in the pros for a complete remodel. Perhaps you could redo the floors with faux wood tile, replace your boring bathtub with a luxurious soaking tub, or have an electrician install dimmable recessed lighting.
No matter how big your budget or how handy you are, you can make your home more comfortable, beautiful, and livable by focusing your efforts where they'll have the most impact. After checking these three high-impact projects off your list, assess your home for other areas that could use a face-lift. By making a few targeted changes every year, you can turn your house into the home of your dreams.
About The Author: Paul enjoys working on DIY home repair projects. He learned to navigate the world of DIY while raising a child with special needs. He is passionate about sharing his experiences working on DIY projects to benefit people with special needs children.