Simple Home Upgrades to Take Happy Hour Outdoors

Summer is coming, and that means it's time to spend as much time in the sunshine as possible. Whether you want to throw a party, host a cookout or enjoy a simple dinner in the backyard with the family, consider these simple home upgrades that allow you to take happy hour outdoors.
Build a Fire Pit
It can get a little chilly outside, even in the warmer months. To ensure you don't have to bundle up — or rush indoors — build a fire pit everyone will enjoy. The process is simple and won't take more than an afternoon. All you'll need is some tools, such as a shovel, tamper and level, along with blocks and gravel. Once complete, break out the marshmallows and chocolate to celebrate.
Install a Deck
Sure, everyone can hang out on the lawn, but why not create a dedicated space for those cherished family gatherings? A deck is an ideal spot to grill, sunbathe or relax with a drink in hand. If you want a project that's a little more straightforward, think about adding a stone or brick patio that's virtually permanent and maintenance-free.
Plant Some Greenergy
If you're going to spend lots of time in the backyard, why not make the area a beautiful one? Plant some trees, such as Japanese maples or oaks, for natural shade. Perennials are also an excellent idea, as they come back year after year. If you have pets, keep in mind that some greenery is toxic, like tulips, mums, hostas, begonias and hydrangeas.
Invest in Appliances
You're guaranteed to spend happy hour outdoors if you invest in a backyard kitchen. Build some countertops where you can prep drinks and meals. Then, add an inset grill, ice chest, sink and some drawers. Be sure to opt for stainless steel, as it can handle the changing temperatures of the seasons. Plus, it's easy to clean.
Add Some Shade
No one wants to bake on the deck or patio as they enjoy a fruity cocktail. To create the ideal hangout space, add an awning to create shade and protect the family from UV rays. As a bonus, you can still enjoy fresh air if it's raining outside — without getting wet. If you ever decide to sell and relocate, this feature alone with increase the value of your home.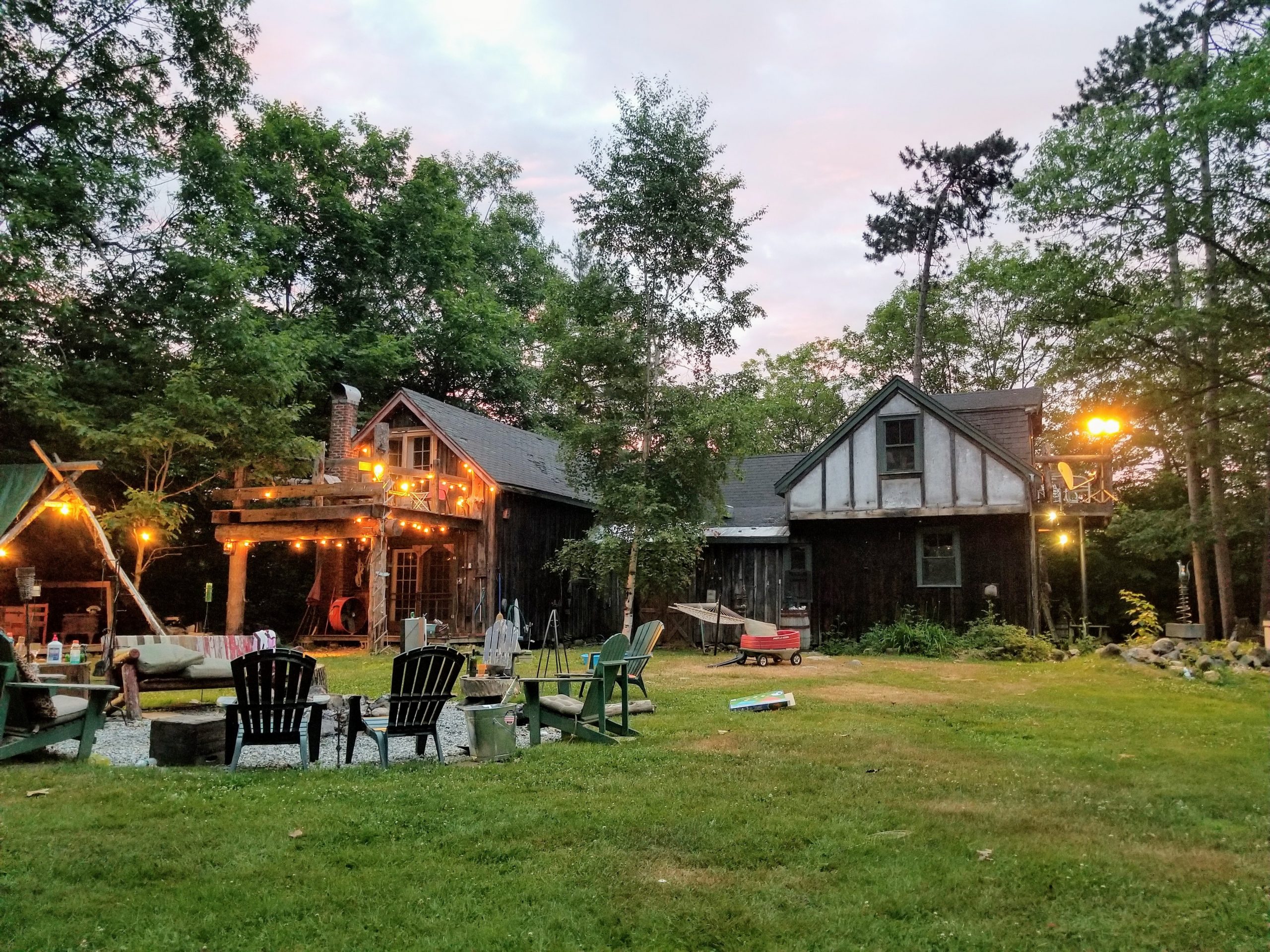 Think About Lighting
When the sky gets dark, will you pack up the party and head indoors? No way! Instead, add some lighting to your outdoor space to keep the fun going all night long. If you want the perfect happy hour vibe, consider hanging up fairy string lights. You can also opt for solar options, which use the sun ray's and don't require any electricity.
Look for Furniture
You've got the space to enjoy a summer evening, but where will everyone sit? Complete your happy hour area with some comfy furniture where people can relax. Cedar and redwood options are naturally resistant to warping and decay, plus they'll repel insects. If you opt for couches and cushions, choose ones with acrylic fabric that can withstand rain and sun exposure.
Patch up Sidewalks
Cracked sidewalks are an ugly sight to behold, plus the problem will only get worse if you ignore it. If you notice small hairline fissures, you can patch up the gaps with a premixed concrete filler that comes in tubes similar to caulking. Scrape the surface smooth and allow the mixture to harden. You may need to repeat this process a couple of times, as the filler might settle when it dries.
Get the Party Started
Are you tired of sitting inside when sipping margaritas? Then try some of the home upgrades above. From building a fire pit to investing in stainless steel appliances, you can create a cozy outdoor area you and your family will love.
About The Author: Kacey Bradley is the blogger behind The Drifter Collective, an eclectic lifestyle blog that expresses various forms of style through the influence of culture and the world around us. Along with writing for her blog, she has written for sites like U.S. News, SUCCESS, Guides for Brides, Hotel Online and more! Follow Kacey on Twitter and subscribe to her blog to keep up with her travels and inspiring posts!