Easy Ways to Elevate Your Home Window Design
Windows aren't typically the first part of the home that comes to mind when you think about decorating, but they can serve as an alluring eyecatcher from both the inside and the outside of your house. They allow you to visually experience the external world from the comfort and safety of inside your home, which can be a wondrous experience during an intense thunderstorm or a period of extreme heat. They can also add classic character to the exterior of your humble abode, making an appealing impression on passing onlookers.
If you're currently underwhelmed by your own window design, or if you're trying to spruce it up when showing your home to potential buyers, don't worry; you don't have to start from scratch and install completely new windows in order to create a desirable effect. There are plenty of ways to enhance the setup that you're currently working with, and to help get your creative juices flowing, here are a few simple ways to magnify your present home window design:
Home Window Awnings Add Function and Style
If you're looking for an easy way to elevate your home window design from the outside, you may want to look into window awnings. They come in a variety of colors and styles, making it easy to find one that will best accent your house and amplify its curb appeal. The good thing about awnings is that they do more than enhance the aesthetic nature of your home; they also help lower your home's indoor temperature by blocking the amount of sunlight that enters your home, which in turn reduces home cooling costs. In fact, the Professional Awning Manufacturers Association conducted a study that showed how households with window awnings saved about $200 a year when it came to keeping their homes cool.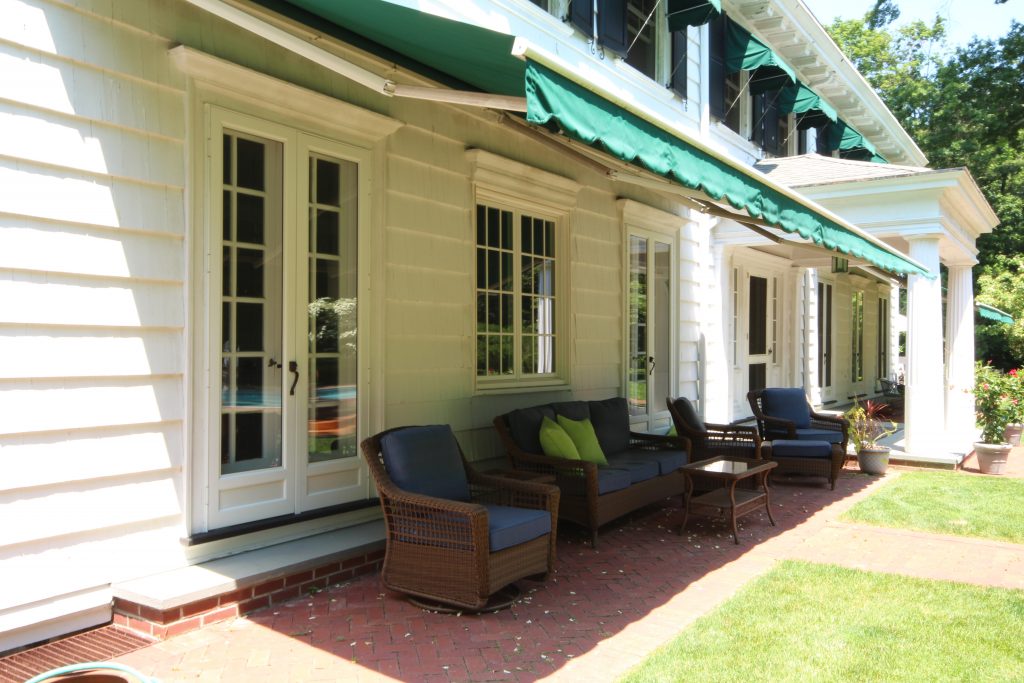 Window Box Planters Add Vibrant Colors
Window box planters add an instant flare of style and charm to any home, especially when cheerful, vibrant plants are sticking out of them. They come in numerous sizes, shapes, colors, and styles, so you'll have many options to peruse through. Whether it's a decorative copper window box or a smooth wooden one, adding a few of these to your home can spruce up any dull window area. While they do look great by themselves, growing colorful flowers or delicious, fresh herbs will help your window design truly come alive.
Choose Curtains That Blend Into Your Intended Ambiance
We talked about a couple of ways to enhance your window design from the outside, but now let's focus on elevating it from the inside of your home. The right curtain choices can help accentuate the ambiance you're trying to create, so it's important to be thoughtful and strategic when making your decision.
Here are a few tips to get you pointed in the right direction:
Be wary of choosing patterns or colors that are so audacious they end up competing with the rest of the room's vibe instead of adding to it.

If the furniture in a room is patterned, consider sticking with a solid color curtain, as too many patterns in a room can be overwhelming. Remember, sometimes simplicity makes the best statement.

Fabric can make a big impact on the energy of a room.

Velvets and silks help create an elegant and sophisticated effect (though they can read stuffy when implemented wrong), whereas cottons, linens, and sheers promote a light, casual vibe. You also need to think about how much light you want to let in, as heavier fabrics, such as velvet and blackout panels, will block light more than sheers and cottons.

Choose your rod carefully.

Many people don't pay much attention to what curtain rod they use, but some will blend into your room better than others. Whether you go with a sleek copper rod or a traditional silver metal one, try to take a step back and decide which one will balance the ambiance best. Success is in the details!

Length matters.

Curtains that go down to the floor create a more formal look, whereas curtains that only go down to the window sill are best for a casual vibe.
Go Beyond Traditional Blinds
Traditional white plastic blinds can look dull and uninspired, and it's quite amazing how much of a difference something as minuscule as blinds can make on a room. The good news is that you have many options, and to help you out, here are a few basic pointers:
Wooden blinds create a cozy, warm, and natural effect in a home. They look polished and add a subtle decorative touch. Remember that moisture can damage wooden blinds, so use faux wood for rooms where moisture is present, such as your bathrooms.

Colored blinds are a risky move, though when done right, they can tie a room together nicely. They can sometimes overpower the room, so it's important to choose a color that doesn't distract from everything else.

A way to play it safe is to choose a color that matches closely to your windowsill and/or wall color. You can still add some pizazz and stray from traditional white plastic blinds by choosing a polished wood and/or faux wood material.

Window shades provide more options when it comes to decorative ability, as they come in many different tones, textures, and patterns. They also need to be pulled up in order to let light in, so blinds are the best bet if you want greater control over the amount of light coming into your home.
Keep Your Windows Clean and Tidy
If you don't keep your windows clean and polished, it doesn't matter how many bells and whistles you adorn them with. A streak-filled, dirty window will immediately catch the attention of whoever is looking at it, and likewise, if there is paint chipping away on the wall around the window, that will distract the eye from anything else. To keep the focus on the positives of your window design, make sure to keep everything in pristine condition.
Closing Up
Whether you're hoping to bring your home window design alive because you're selling a house, or if you simply just want to create a more pleasant design for your own pleasure, there are many accessible options to choose from. With a little bit of thoughtfulness and decisiveness about the mood you want to create, you can easily swap a humdrum window design for something truly imaginative. Happy decorating!
Author Bio: Anette Ortenstone is a writer from Colorado who loves to share and learn new tips on how to turn houses into homes.