Bedroom Solutions for Small Spaces

There are many bedroom solutions for small spaces that can not only help you maximize the space you have, but also create a more inviting atmosphere. A combination of multiple strategies will make a small room seem not-so-small. The first and most effective solution is to actually create more usable space. This entails fitting everything you need in a compact area which can be challenging but ultimately very rewarding. Another answer for this predicament is to establish the illusion of additional space. With a smaller room, it doesn't take much stuff to generate a cluttered feeling. There are some popular ways to make a room appear larger using décor and item placement. Getting larger bedroom accessories into the room and situating them is one more issue that needs addressed. Every bedroom needs a bed and even larger rooms may have narrow hallways and small doorways that present a problem. However, there are ways to approach this obstacle as well.
Create More Usable Space
While changing the size of a room is not possible, there are several ways to enhance the usability of a small space. Utilizing storage and effectively organizing clothes and other items can open up more area. The result is a room that doesn't just look like it has more space. With a good plan you can actually create more space! Make sure your plan includes elimination, storage and organization.
Eliminate Unnecessary "Stuff"
Bedroom solutions for small spaces won't fit an entire house worth of belongings into a tiny room. So the first thing to do is to consider what you need to get out of the bedroom space. Obviously a bed is needed and likely items such as a night stand or desk. It is possible to get multi-purpose functional furniture to replace bulky individual pieces. Do-it-yourself shelving could even replace a side table. Analyze what your bedroom needs are and then donate to a thrift shop or have a garage sale to free up the space. De-cluttering first will allow you to know what all you need to fit into the room and therefore help you make a storage and setup plan.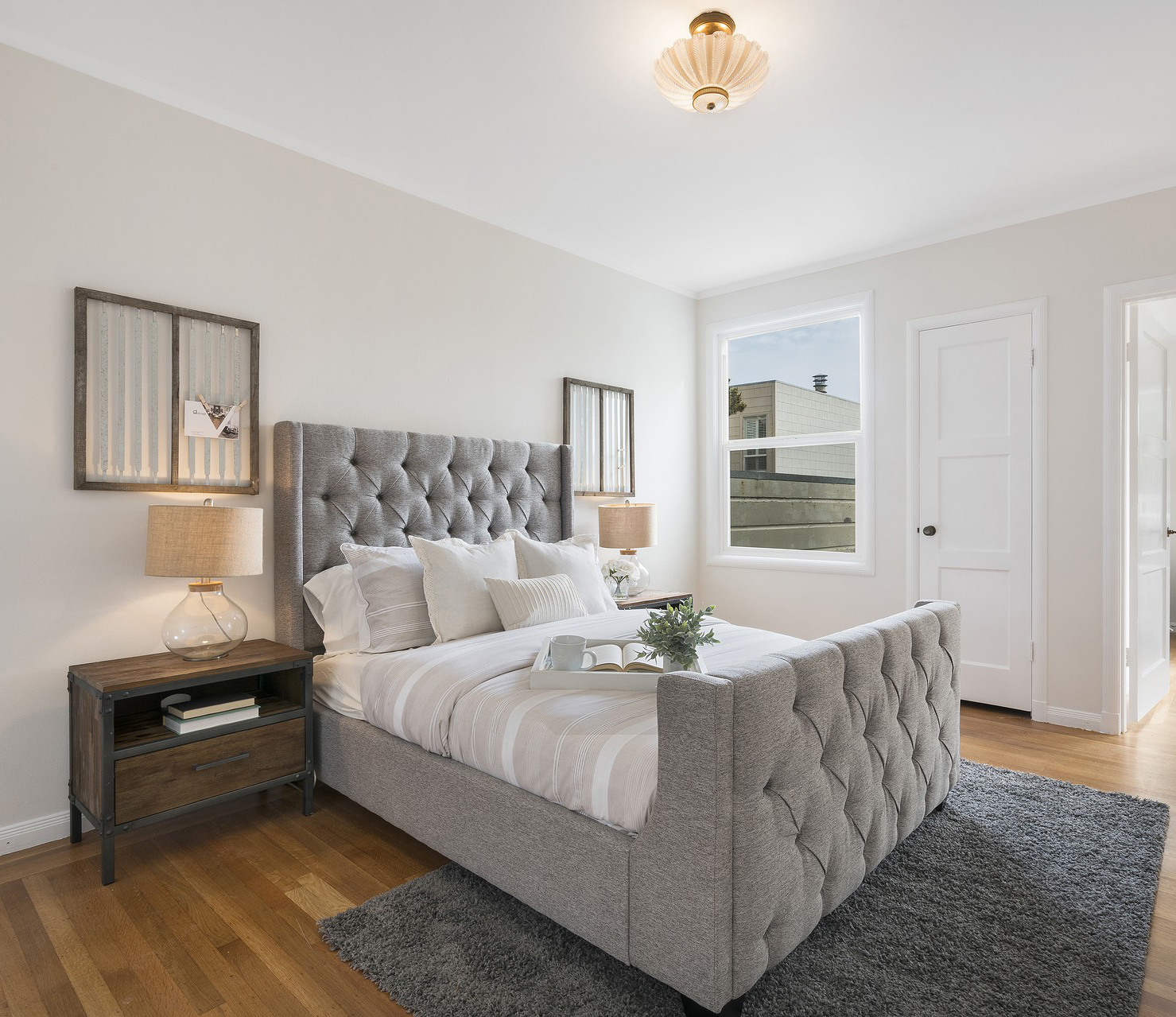 Add Storage
Hide your mess with hidden storage compartments and well thought out shelving. Wall mounted corner shelves and shelves above the entryway are a couple ways that you can open up floor space. Hideaway storage bins, rollaway storage and drawers can be incorporated beneath a bed. Cabinets are not just for the kitchen! Mounting cabinets in a bedroom can not only conceal clutter, it will produce more usable floor space for furniture and large items. Lastly, alcove lighting can replace floor and desk lamps. Not only does this lighting enhance the way the room looks, it frees up space on your floor and/or nightstand.
The Value of Organization
Organization is the key to every bedroom solution for small spaces. If things aren't put away in an organized manner you'll end up with a mess every time you need to pull something out. Fortunately, there are some techniques that can be used to keep a small room orderly. Because clothing takes up so much space, you can use curtain rod rings instead of hangers to hang scarves or camis. This keeps them all in one place and allows for more than one item per ring increasing closet space. Closet organizers, cube organizers and even storage tubs can help keep you organized if you are willing to spend the time.
Make the Room Look Bigger
Finding a way to make a small place seem bigger is another bedroom solution for small spaces. While this aspect is only an illusion, it can make guests feel like your space is larger than it is. Many people are more comfortable sleeping in a room that feels larger so incorporating some of these types of ideas may even sleep better. The most common way to create the appearance of a larger room is by using mirrors to reflect and magnify the area. For similar reasons, using light colors for walls can make a bedroom look bigger as the light reflects on the paint. Using windows without curtains or other coverings will allow more light in and also give the room an impression of more depth. Having lines along the floor or wall (but not both) can elongate the look of the room. Last but not least, keep the number of individual items mounted to the walls to a minimum. Having a busy wall or wall design can be overwhelming and lessen the look of space.
Fitting a Large Bed in a Small Room
Successfully maneuvering smaller corridors and doorways requires a different kind of bedroom solution for small spaces. You may think that a small room limits the size that a bed can be, as moving a large bed into a smaller room can be difficult to navigate. However, the sleep industry has come up with a solution for this dilemma. According to Rest Right Mattress, a split size bed base and split size mattress can be the solution. These styles enable a bed to be moved in multiple pieces, rather than one huge piece. This allows a large bed to be taken through narrow corridors and small doorways. It also helps with rearranging as it is easier to move two smaller sections than a single large one even if the room is larger due to the weight differences.
Enlist Hired Help
While many bedroom solutions for small spaces can be implemented simply by the average person, there are some times when a professional should be consulted. If you find that your skill set does not include the tools you need it's best to hire a pro. They can help add shelving or electrical necessary for conduit and alcove lighting. There are even some companies that perform organization services. Use your strengths and then consult the experts to help with the things you are less confident with. In the end, you will have an effective and efficient bedroom that is pleasing to the eyes and conducive to sleep.
Taking steps such as adding storage and organizing can give a small room more space. Smart color choices go hand in hand with décor placement to create a room that looks and feels bigger. Researching new bedroom products can assist you in identifying large items that will fit easily into a small room. All of these are excellent bedroom solutions for small spaces. In fact, most of these ideas can be used in any small room, whether it is a bedroom, kitchen, living area or bathroom.
Author Bio: Mindy Tan has a Bachelor of Business Administration from Wichita State University and is currently serving as Marketing Manager for Rest Right Mattress. Her experience includes project management for Epic Sports, Anytime Fitness, VinciPro Baseball, QSI Facilities, and the Nonprofit Chamber of Service.