7 Cheap outdoor home decoration ideas that your neighbor will get jealous of
With the sun slowly peeking out in full force, homeowners are already starting to decorate their yards and patios. This is the best time to be creative and make your home come alive through the little knickknacks and decorations that you can put on your landscape. Not only will these decorations make your home more beautiful, it will also wow your guests and family. Nothing beats coming home to a comfortable and stylish house.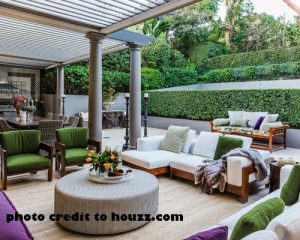 Here are some affordable outdoor home decoration ideas to can liven up your landscape that will make your neighbors jealous:
More Plants
Adding some life form into your outdoor space is a good decoration idea. Although you may have a lush garden outside, putting plants on your benches and seating spaces will add life. A shade of green in your patio adds calmness to your patio. You can be creative with plants. You can do vertical planters on your fence or incorporate your plants into your tables for an interesting center piece. You can use cacti and succulents filled with pebbles on a reclaimed table. An espaliered tree can also fake a high end look to your space. This creates visual interest to your blank wall.
Bistro Lights And Buntings
Add color and interesting light fixtures to your garden with bistro lights and buntings. This creates a festival and fair look to your home and will be great for when you are entertaining guests outdoors. Instead of your old boring outdoor lights, simple buntings and bistro lights instantly enhance your home while giving it flair. Plus, these will not cost you a lot of money. You can purchase cheap buntings from your local store or make one on your own. If you're handy with wires and bulbs, it's quick and easy to make your own bistro lights. Purchasing string lights from your local department store is also an affordable alternative.
Colorful Rugs
A simple rug can make your patio look amazing from blah. With this trick, you don't need to spend a lot of money. You don't even need to change anything in your patio. A colorful rug instantly creates vibrancy. This is an easy method for going wild on colors without committing to anything. You can go for nautical stripes or a thematic pattern. It's also easy to change up the mood of your patio by just changing the rug.
Vintage Hardscape Elements
If you flair for vintage and for scouring through thrift stores and garage sales that includes affordable treasures, then this outdoor home decorating idea is for you. Putting vintage elements in your garden or patio is a sure way of adding class and style. You can go for old and worn out benches and tables for a vintage chic look. Old metal trellises or arbors can add height to your backyard. Vintage knickknacks on your patio can also create a point of interest in your space. This is where you can get creative with your vintage finds.
Fire Pit
Everyone in your neighborhood will be jealous of your fire pit. You don't need to spend a lot in order build a fire pit in your landscape. You can use concrete culvert spacers that are nestled into the pea gravel and stacked together. With this pit, you can already camp with your family on warm summer nights and entertain friends around your pit.
Concrete Seating
This is an inexpensive technique to add more seating space to your outdoor space. Outdoor furniture can be costly. So why purchase new ones, when you can make your own for a fraction of the price? Use concrete blocks and stack them together to build benches and tables for outdoor dining. Just cover it with a foam pad and add a few colorful pillows to create a comfortable seating area in your backyard. Nobody will ever notice how easy it was for you to build your seating space.
Colorful Patio
Add splashes of color back to your patio to bring life into the space. Colors are great for celebrating spring and summer in your home. Opt for colorful chairs or benches. You can go for a certain color scheme or opt for some random color combination that will make your patio more vibrant. You can even repaint your furniture for a cheaper alternative. This revamp idea does not cost you much but will definitely attract attention from passersby. This gives off a distinctive feel.
About the Author: Written by Kristy Jones of AclickAwayRemotes.com. You can also follow her here on Twitter. Photo Credit: houzz.com