Home Improvement: Spring Cleaning Tips 2012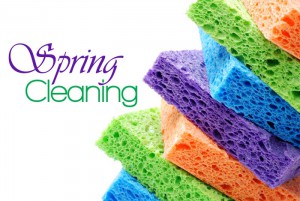 The spring cleaning list is either long or short depending upon if you are a homeowner or a renter but many of the following tips apply to both.  These few home improvement tips listed below can help get you well on your way to the warmer sunny weather.
Clean the Dryer vent and vent hose to prevent risk of fire.  It will ensure maximum performance from your appliance and consume less energy.  Over 15 thousand fires annually require a fire department response and of those 70% are attributed to the failure to clean the vent and hose.
Dust under the refrigerator to help keep it operating at maximum efficiency.  This will also help avoid the buildup of moisture which can lead to mold and mildew.
Don't forget the exhaust fan in the bathroom; it can accumulate dust that decreases it efficiency.  Also inspect to see that moisture is exiting the house properly to reduce the risk of mold in your attic space.
Use a Power Strip for your TV and entertainment equipment.  It will protect them from an electrical surge that can happen during thunderstorms.  When you only need to push one button, it helps to make it simple to power down the household if you are planning to be away.  The same goes for the computer and its accessory devices as well.
Most appliances, TV's VCR's and other electronics, have an internal clock that continues to run even if the device is turned off.  Putting these devices on a power strip and regulating those which need to be on, saves energy that over time will add up to some big savings.  This is especially true if you are going to be away for more than one week at a time.
Think Energy Star when considering replacement of any major appliances specifically for window unit air conditioners.  Energy efficient choices can save families about a third on their energy bill and greenhouse gas emissions, without sacrificing features, style or comfort.  ENERGY STAR products help you make the energy efficient choice.
Whether your home has window units or central air with forced air ducts, cleaning all air conditioner filters is a must.  The air passing through a filter only gets slowed down when it's dirty, making your equipment work harder and consume more energy.  Secondly, fresh air inside the home is critically important.  The US Environmental Protection Agency (EPA) has stated that indoor air pollution is one of the top five environmental risks to public health.
Check the exterior vent openings for the bathroom exhaust, the range hood for the stove and the dryer vent.  They should all be clear of obstructions and lint free.  This ensures that all the work you may have done on the inside remains beneficial and is not impeded because of a blocked exit from the household.
Make your fall clean up easy and label all storm windows that are exchanged for warm weather screens as they are removed.  This improves how quickly you can reinstall your storm windows, especially when it is more likely to be chilly outdoors when you decide it is time to put them back.
Even though you may be a serious DIYer there is no shame in having your lawn mower serviced by professionals.  One task you will never regret asking them to perform is to have them sharpen the blade.  When the mower blade cuts clean it is healthier for your lawn, makes your time more efficient and the look of your finished product will make you proud.