Things to consider when remodeling your kitchen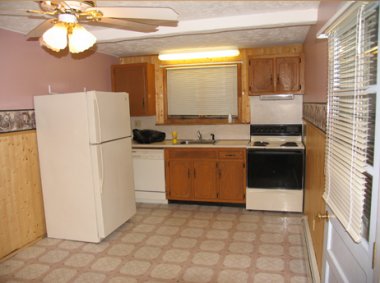 BEFORE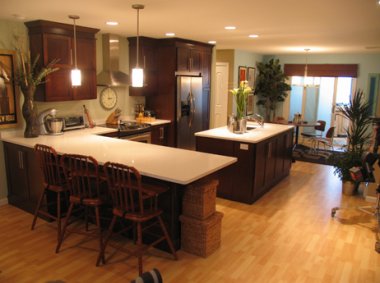 AFTER
We've captured the most talented people from Long Island's designing industry. Alure has C.K.D's (Certified Kitchen Designers) who are masters at all phases of the kitchen renovation field. We have interior designers and space planners who are trained in creating proper traffic patterns and maximizing storage for today's busy lifestyle. Our color and style experts are there to enhance the architectural attributes of your home, protect its resale value, yet still find ways to make it all your own. Are environmental concerns and "green" issues topping your list? Our company also employs those with the vast structural and "hands on" knowledge needed to ensure that we can make your dreams come true. Alure has every professional needed to collaborate and make our custom kitchen project just as special and unique as the homeowner!
We handle everything the entire project from design planning, installation, service, permits and more. Our certified designers will answer all your questions and help you with all the things to consider listed above and our design consultations are always free.

Get started today with a free, no obligation design consultation or call 877-44-ALURE (877-442-5873).
KITCHENS FAQ
Q: What's the difference between Custom Kitchens & 10-Day Kitchens?
A: A 10-Day Kitchen is more limited in scope of work and in product offering. It is also an in-home program where our designers come to you with samples of all of the products offered. Both programs are a complete gut and full remodel of a kitchen, but if you are interested in changing the physical dimensions or the room or have very specific wants or needs, a custom design team will be better suited to help. They will assess the home's existing conditions then meet with you in our showroom/design center to review possible layouts, select product and clearly identify the work scope. As the name suggests, in the 10-Day kitchen program, the work is done in just two weeks. There is also a cost savings with the 10-Day program as the labor cost is capped due to the time savings and product can often be purchased in bulk.
Q: What makes a kitchen more or less expensive?
A: Size of the kitchen in terms of running feet of cabinets and counter tops will have the biggest effect on cost. Cabinets account for a large percentage of the kitchen cost and that cost can range dramatically based on quality, material, and customization. Cabinets are categorized as Stock, Semi-Custom, and Custom. The second biggest factor is usually counter tops. Laminate counter tops like Formica are a fraction of the cost of Solid Surfaces such as Granite, Corian, or Quartz. Most kitchens today are gutted and re-sheet rocked, but in some situations you can save money by working with the existing walls, floors, and/or ceilings. This will limit access to plumbing and electric and will usually not produce the same level of a finished product.
Q: What about contracts and orders?
A: Before any work begins on your kitchen, get a detailed written contract with project specifications such as work scope to identify exactly what work is being done and if anything is your responsibility. Make sure that the contractor insured by insisting on a copy of the insurance certificates for both workers compensation and liability insurance. These certificates must be valid for the dates that the work is being done and must come to you directly from the insurance company to ensure that they were not tampered with. Your designer should prepare project drawings including floor plans and renderings that clearly represent your project. If anything changes mid-project, you should be asked to sign a change order that describes the additional work or the items omitted, a price or credit amount, and the payment terms for the change.
Q: What is the kitchen "work triangle" and why is it important?
A: The "work triangle" is formed by drawing lines from the refrigerator to the main sink, then to the cooking surface, and back to the refrigerator. It signifies the area that the main cook works within. The importance of the work triangle is mostly its size, in that it should not be too large or too small and its relationship with the traffic flow. A good work triangle does not cross the traffic flow. Drawing out the work triangle makes it easier to identify the main preparation counter as well as the clean up area. A good designer will assess all of these factors along with a good understanding of how you will be using the kitchen, whether the main cook is right handed or left handed, the triangle's relationship with the eating area and more to design the right kitchen not only for the space but also for the people who will be using it.
Q: Where's the best place to put a microwave?
A: Like most things about your new kitchen, it will depend on how you and your family use the appliance. From a safety and accessibility standpoint, the microwave should be positioned so that the bottom of the appliance is 24″ to 48″ above the floor. Consult with your designer for the best place to locate it.
Q: What is GFCI and do I need it?
A: GCFI stands for Ground Fault Circuit Interrupters. GFCI is an outlet that monitors the balance of electrical current moving through the circuit. If an imbalance occurs, GFCI cuts off the electricity. Its purpose is to prevent fatal electrical shocks. As you know, water and electricity are a deadly combination. Since both are necessary in kitchens and bathrooms, all counter outlets should be GFCI protected for your family's safety.
Q: How do I choose a cabinet type for my kitchen?
A: Kitchen cabinets can be expensive. You should be educated on the different products that are available prior to making this decision. The main cabinet features are:
American Style Vs. European Style of Construction (also know as Framed Vs. Full Access or Frameless)
Overlay of the doors and drawer fronts, such as Standard Overlay, Full, Lipped, or Inset. Each can significantly affect the look of the kitchen and the cost
Material, Laminate vs. Solid Wood. It's important to understand the attributes of every available wood species as they not only look different in their natural state; they take stains very differently from each other and have different levels of hardness.
Level of customization. Cabinets are categorized as Stock, Semi-Custom or Custom. There are many pros and cons to each of those levels that must be considered when choosing one.
Q: What type of countertop should I choose for my kitchen?
A: There are many types of countertops to choose from. The main differentiators are:
Appearance – Personal decision
Durability – Resistance to scratching, denting, chipping, or cracking
Heat Resistance – Will it burn, scorch, or discolor with extreme heat?
Porosity – Resistance to staining and ability for bacteria to survive on the surface
Maintenance – Some products require regular sealing of the surface or buffing out of
Seams – How visible are the seams
Cost – Most solid surface materials like Granite, Quartz or Corian are in the same price category, but laminates like Formica or Stainless Steel can much less costly
Q: What should I look for in a contractor?
A: The most important attributes of a good, reputable contractor are:
Been in business for a while under the same company name
Has a good rating with BBB and Consumer Affairs
Has a physical place of business
Has the resources to handle the project even if things go wrong
Courteous service that doesn't make you feel like you have to fight for attention
Warranty on the work they do and the material they install
Is able to help you through the whole process including, layout/design, product selection, project management and permit procurement where required
Carries a substantial amount of liability insurance and worker's compensation insurance for every person that will be working in your home