Felico's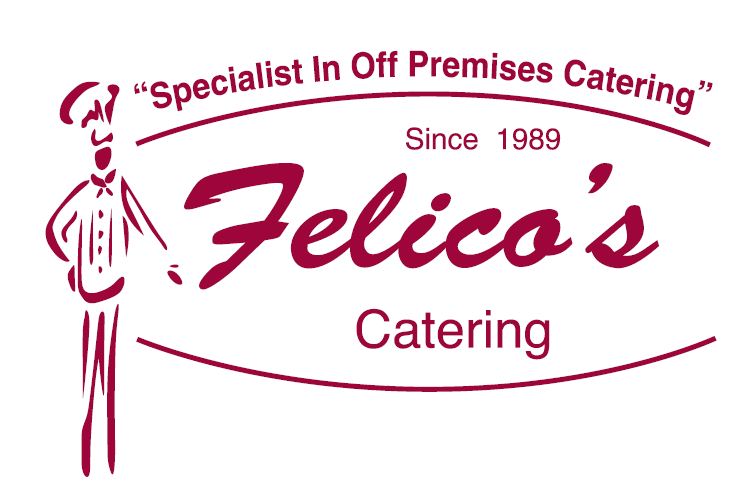 FELICO'S CATERING CHEF APPEARANCE
12:00pm SATURDAY AND SUNDAY!
RAPHAEL HERNANDEZ- EXECUTIVE CHEF AND OWNER: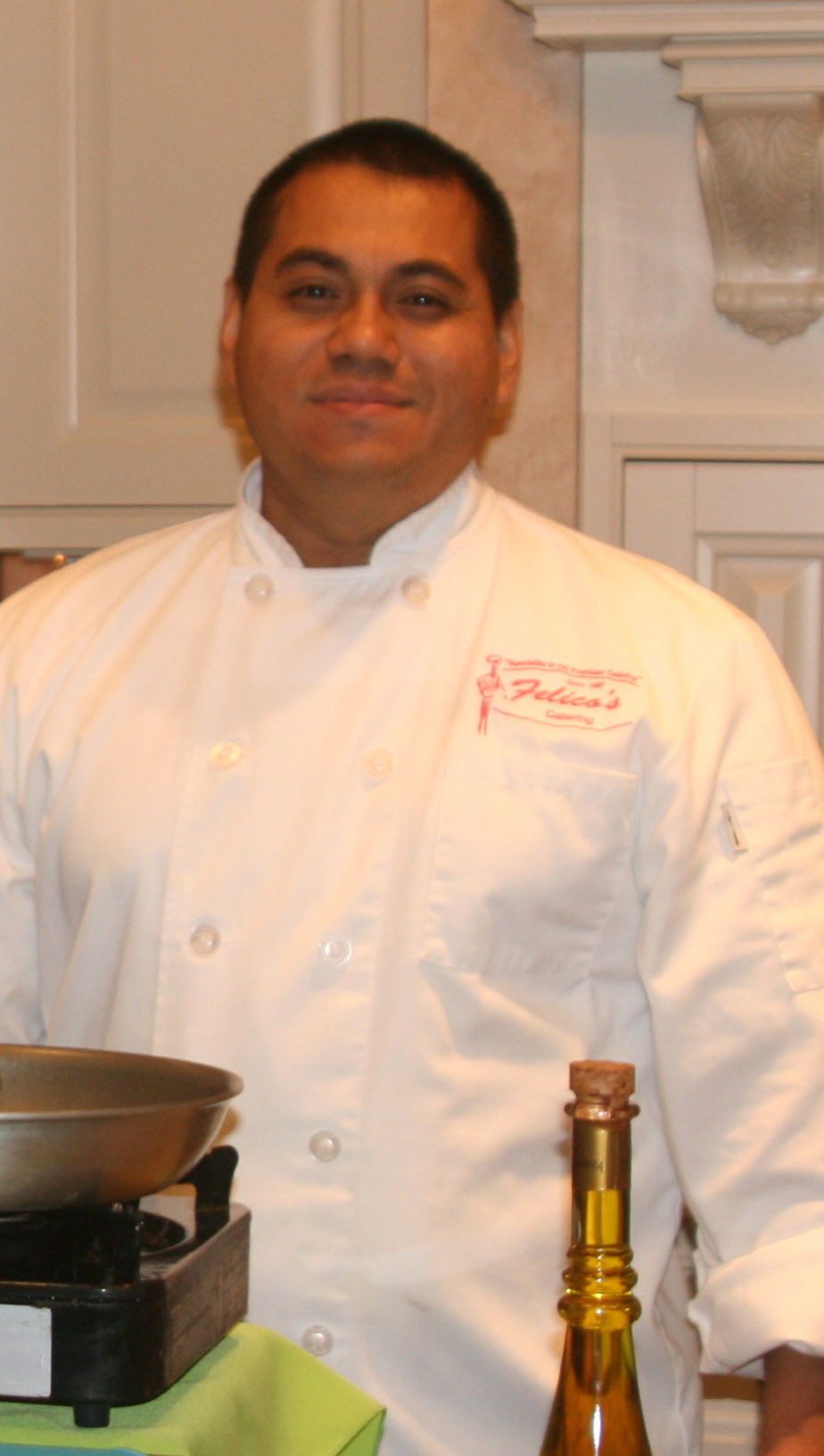 Raphael Hernandez, born in El Salvador, never went near the kitchen when growing up. Cooking was traditionally not done by men, says Raphael, now the head chef and partner in Felico's Restaurant & Catering. As his family moved to the United States, Raphael started working at Cafe Testarossa in Syosset, first as a bus boy, but quickly working his way up while learning everything that goes into the works of a restaurant. As time went by, his natural talent for cooking paired with creativity became impossible not to notice. Together with Frank Felico and Joann Corbisero, Raphael has shaped Felico's Restaurant & Catering into powerful catering company with unsurpassable expertise in off premises catering. There's no one who can do it better than us, he says, with a twinkle in his eyes. We have pictures to prove it, just visit our website and take a peek at the photo galleries. After 16 years at Felico's, he is still as enthusiastic as ever about serving quality food, saying he loves it when people love the food he makes. Raphael believes his roots have helped shape him into a better and more creative chef. Moving from one country to another and exploring different cuisines enhance your palate and make you invent new flavor combinations, he says. Raphael's cooking style could be best described as American-Italian and his own favorites to eat are pasta and seafood. Felico's Catering (85 Allen Boulevard, Farmingdale, NY 11735 [631] 249-1401- Restaurant – [631] 777-1999- Catering www.felicoscatering.com)- Starting his adolescent years, Frank Felico Jr. began working with his father in the business of serving renowned sausage and pepper heroes in New York City. At age 22, his dream of one day opening his own business became a reality when in 1989 Felico's restaurant was opened for business. Located in Farmingdale, Felico's is at the heart of one of Long Islands' most diverse industrial parks. Felico's offers such a wide variety of cuisine, from our signature sausage and pepper heroes to our hot steam tables, offering 14 exquisite dishes daily, we're sure you'll find something your appetite will enjoy.
With no intention of starting a catering clientele, Felico's has now become one of the biggest off premise catering services on Long Island. With such a delightful array of dishes and impeccable service, our customers had no choice but to ask us to cater their next event. Felico's caters breakfast, brunch, lunch and dinner, and even just an afternoon snack. Whether you have a small house of your closest family and friends to a large company, we at Felico's will provide you with a plethora of good eats and the service to make your event enjoyable for all. You may even be looking for the parking lot BBQ or the annual backyard party; there is nothing Felico's won't do. We offer waiters, waitresses, bartenders, busboys and even cooks/chefs. Our catering consultants will be happy to help organize every detail to make your event a sensational hit. We offer budget conscience menus for those looking to save money but proved a delicious meal. We are also aware of many different dietary restrictions and preferences, including vegetarian, vegan, gluten or sugar free, lactose free, etc. If you're looking for healthy choices, we have a wide variety of dishes to meet your needs that taste great too!
All of our food is prepared fresh daily on our premises using the best seasonal ingredients available. We will deliver and set up a hot or cold breakfast, lunch or dinner 7 days a week, 24 hours a day. We deliver to all of Nassau County, and as far East in Suffolk as Riverhead. For a small additional delivery fee, we will deliver into the east end, or into Brooklyn, Queens or Manhattan. Our service is utilized by Pharmaceutical Representatives because of their confidence in Felico's to provide great food, timely service and remarkable presentation. We understand that timeliness is the utmost importance in the industry. Listed below you will see some of the lucky clients whom take advantage of our superior services.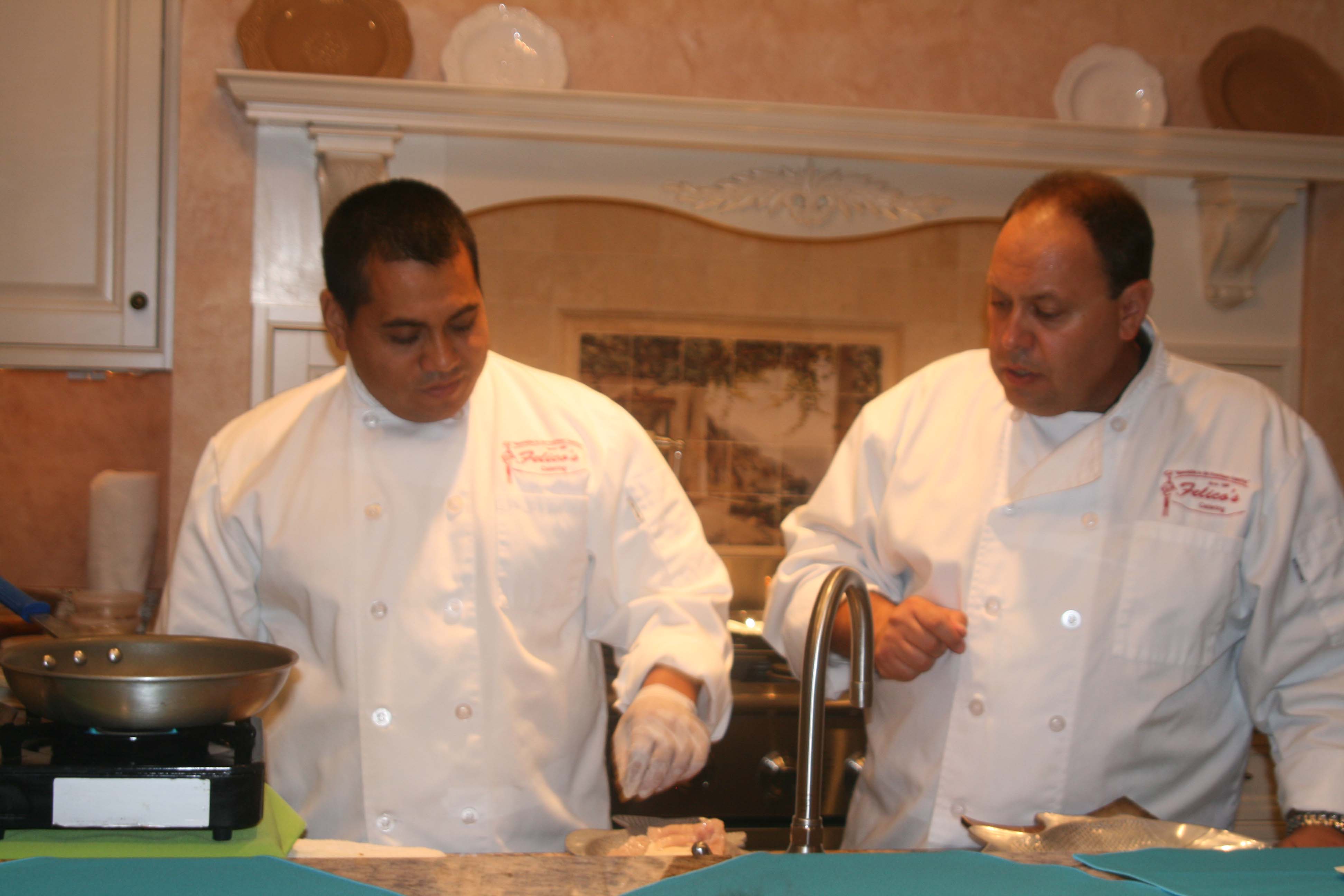 Alure
United Parcel Service
Fonar
LIJ Hospital
Stony Brook Hospital
Lexus
Petro
Wendy's
Sleepy's
Infiniti
Cadillac
North Shore Hospital
SUNY Stony Brook
Felico's restaurant is open 8:00am-6:00pm Monday through Friday. Our central location in Farmingdale allows us to branch out in every direction and cater everywhere from Manhattan to the Hamptons 24 hours a day and 7 days a week.