Roofing Repair & Other Services Available in Little Neck, Flushing, Laurelton, Throughout Queens County & Across New York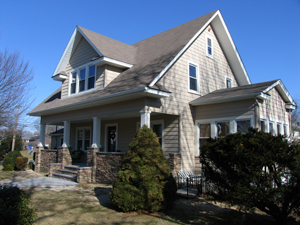 The roofing professionals at Alure Home Improvements are trained in the latest techniques to expertly handle nearly any roofing job in Queens County. Since 1946, we have been proud to help local homeowners meet their remodeling needs in a timely, efficient, and professional manner, and we go to great lengths to make the entire home remodeling process as easy as possible. We understand that electing to replace or repair your roof is a big decision, and our team is committed to answering all of your questions and making sure that you are completely comfortable with the plan before any construction begins.
One of the problems that many people run into when they're considering replacing their roof is that it can sometimes be difficult to picture what the roof will look like on their home. As a result, the entire roofing process can often be even more stressful because the homeowner has to worry about whether the new roof will complement the exterior of their house. Yet, this isn't a problem at Alure Home Improvements thanks to our state-of-the-art Visualizer. This advanced software allows our design specialists to digitally alter a photo of your home to provide a rendering of what it will look like with the new roof in place. Not only is this software extremely practical and  helpful in taking much of the guesswork out of shopping for a new roof, but it can also offer a fun and creative way to experiment with different types of materials for your home.
We offer several different roof options for you to consider, including:
Charcoal black
Weather wood
Teak
Slate
Resawn
Burnt Sienna
And more
In addition to roofing, we also offer several other home remodeling products in the Queens County area for you to consider, such as siding, windows, gutters, and sunrooms. To learn more, contact us today and schedule a consultation.
Extra 5% Savings + 50% off Install!
For a limited time only, save and extra 5% on your project PLUS 50% off Install AND NO money down, NO payments, NO interest for 18 Months* - Act now! *SUBJECT TO CREDIT APPROVAL. Offers are for the stated time period only and may not be combined with any other offers, promotions or discounts. Some restrictions apply. Offer not applicable in all counties due to Consumer Affairs Restrictions. Offer not applicable in or to residents of New York City. *Call for details on scheduling the imaging session.