Siding Installation for Homes in Queens, Little Neck, Flushing, Laurelton, Throughout Queens County & Across New York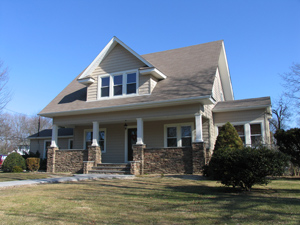 Adding new siding to your home in Queens is a great way to improve the curbside appeal of your property, increase the value of your house, and cut down on regular maintenance. At Alure Home Improvements, our professional team has decades of experience installing siding and other home remodeling products quickly, efficiently, and affordably.
There are many different styles of siding currently available for you to choose from, including vinyl, stone, stucco, brick, and much more. Yet, with so many choices, selecting the right color and style for your home can sometimes seem a little overwhelming, which is why we're so proud to offer you access to our design imaging center. Before you purchase any exterior remodeling product from Alure, you don't have to imagine what it'll look like on your house, we'll show you. Using a digital photo that has been uploaded into our state-of-the-art software, our designers will help you pick the right siding for your home by digitally altering the picture to reflect how the choices will look on your home.
In addition to being a beautiful upgrade to the home, our siding options also have several other notable benefits, such as:
Our siding is designed to be extremely durable and withstand years of wear and tear.
 We feature UltraShield, an advanced insulation system that offers a system R-Value of 4.16, helping you cut monthly cooling costs by as much as 20 percent.
Our siding requires virtually no maintenance and is not as susceptible to fading, rotting, warping, and other damage as traditional materials.
For more information about the siding options we offer in Queens County and across Long Island, New York, contact us today and schedule a complimentary consultation. We also offer a wide variety of other home remodeling products including replacement windows, sunrooms, basement finishing, full bathroom remodeling, and more.
Extra 5% Savings + 50% off Install!
For a limited time only, save and extra 5% on your project PLUS 50% off Install AND NO money down, NO payments, NO interest for 18 Months* - Act now! *SUBJECT TO CREDIT APPROVAL. Offers are for the stated time period only and may not be combined with any other offers, promotions or discounts. Some restrictions apply. Offer not applicable in all counties due to Consumer Affairs Restrictions. Offer not applicable in or to residents of New York City. Call for details on scheduling the imaging session.