Select the Right Kind of Windows for Your House in Flushing, NY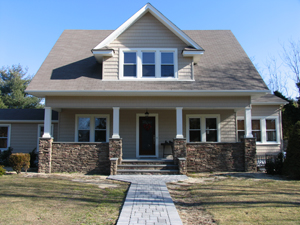 Are you looking for new house windows for your Flushing, New York, home that are both attractive and energy efficient? If so, turn to the experienced professionals at Alure Home Improvements. As a full-service home remodeling company with extensive experience meeting the home improvement needs of local area residents, we have the tremendous selection of house windows that will allow you to choose just the right products for your needs.
To help you sort through your various window options, our team of dedicated window experts is standing by. We'll happily explain the numerous features of our house windows to help you select the right products for your home. For instance, our windows come with a low emissivity (Low-E) coating that helps deflect heat away from the home in the summer months and better retain warmth in the winter. The individual glass panes are also separated by nontoxic argon or krypton gas fills that are highly viscous and help prevent the transfer of heat from one pane to another. As a result, these energy efficient vinyl windows help to:
Prevent drafts and keep the temperature of the home regulated throughout the year, regardless of what it's doing outside
Reduce energy waste and lower monthly heating and cooling bills
Cut down on maintenance on the home's central climate control system because it doesn't need to work as hard to maintain a consistent temperature in the home
Additionally, our house windows are highly customizable to help ensure that we can provide you with the right kind of windows that will meet your design needs and aesthetic preferences. In fact, you can choose from all sorts of window styles, grid patterns, colors, stains, and blinds to create the ideal windows for your house.
To learn more about the house windows we offer in Flushing, New York, as well as our window installation process, contact us today. Or, stop by our gorgeous three-story showroom in East Meadow to explore your options in person.