Window Installation Service from Alure Home Improvements in Queens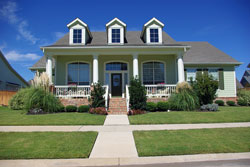 At Alure Home Improvements, we believe that the window installation method that your home remodeler uses is as important as the type of window that you select for your Queens home. Improperly installed windows can void warranties, become drafty or difficult to open, and will leave you disappointed in the investment that you've made in your home. Fortunately, the dedicated team of window installers that we employ is fully trained in the latest window installation techniques and will handle every step of the project from start to finish to your standards and expectations.
One of the most significant benefits to our window installation is that we are so confident in the quality of our window installation service that we offer a minimum five-year warranty on all of our parts and labor. What's more, we stand behind and service all manufacturer warranties, many of which range from 30-50 years. The importance of these warranties cannot be overstated, because it provides you with peace of mind that your windows are of the highest quality and have been correctly installed in your home.
Our window installation service is also intended to be full service in that we will:
Help you with your design, sorting through our various color combinations and style of vinyl windows to find the type that best complements the beauty of your home
Secure any necessary permits before installation begins
Install your new windows using the very latest in window installation techniques to ensure you enjoy optimal energy efficiency and your windows meet your needs for the years to come
Leave your property looking clean and neat after the installation is complete, making it seem like our team was never there
Service your replacement windows after the fact should a problem arise
What's more, during the window installation process you'll work closely with our installers and we'll keep you up to date with our progress every step of the way. You'll even have access to a 24-hour emergency hotline should an unexpected situation arise.
To learn more about the window installation service that we offer in Queens, contact us today or stop by our showroom in East Meadow, New York.