An Overview of Popular Types of Countertops and the Advantages of Each Option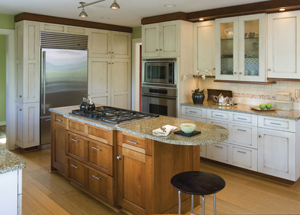 One of the most important aspects of kitchen remodeling is selecting the right kind of countertop. A gorgeous countertop can really bring the room together and is often one of the first things that people notice when they walk into your kitchen. At Alure Home Improvements, we know how important countertops are in the kitchen and we're proud to offer a variety of different styles, types, and colors of countertops for you to choose from when you're beginning the remodeling process. To help assist in this process our Certified Kitchen Designers will be more than happy to help you select the right option for your home.
Here are a few examples of the types of countertops that we offer as part of our kitchen remodeling service:
Granite, A timeless option, granite countertops are popular because they are extremely durable and resist scratches and heat, ensuring that they'll look great after years of wear and tear.
Stainless steel, A modern countertop option, stainless steel is nonporous, which is great for preparing food, and matches extremely well with just about any kitchen décor.
Marble, A bold, beautiful option, marble is instantly recognizable, available in many different shades and varieties, and is both waterproof and highly resistant to heat.
Wood or butcher block, Wood countertops give a warm, rich look and can resist scratches, but it also may need to be frequently sealed to avoid water damage.
Since 1946, Alure Home Improvements has been proud to help local homeowners meet all of their kitchen remodeling needs. We offer a tremendous selection of countertops and other kitchen remodeling products, and our design team works very closely with our customers to ensure their complete satisfaction.
To learn more about the various countertops we offer, stop by our beautiful showroom in East Meadow, New York, and explore our inventory. A professional kitchen remodeler be happy to answer all of your questions and help match you with the countertop that will work best in your kitchen. Contact us today.
FREE Stainless Steel Bosche Dishwasher ($750 Value) With Complete Kitchen Remodel
For a limited time only, get a FREE Bosche Dishwasher (Model #SHE3ARL5UC) with your Complete Kitchen Remodel PLUS NO money down, NO payments, NO interest for 18 Months* - Act now! *SUBJECT TO CREDIT APPROVAL. Offers are for the stated time period only and may not be combined with any other offers, promotions or discounts. Some restrictions apply. Offer not applicable in all counties due to Consumer Affairs Restrictions. Offer not applicable in or to residents of New York City.