Kitchen Remodeling in Levittown, Wantagh, Merrick, Throughout Nassau County & Across Long Island, New York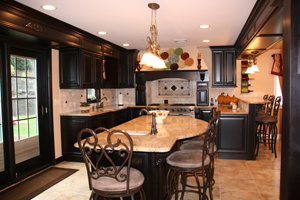 If you're considering remodeling the kitchen in your Nassau County home, the experienced professionals at Alure Home Improvements are here to help. Remodeling your kitchen can be a cost-effective and practical way to completely rejuvenate one of the most popular rooms in your house and increase the property value of your home. Whether you're finally ready to invest in your dream kitchen or the time has come to simply replace your old countertop and cupboards, we've got you covered, no job is too big or too small. We'll handle every aspect of the remodel from the initial design phase through the completion of construction. We'll even secure all of the necessary permits for the project for you.
As a full-service home remodeling company, we have the qualifications, knowledgeable staff, and wide inventory of remodeling products needed for just about any remodeling project. If you're interested in completely gutting your kitchen, knocking down walls, and installing new fixtures, we've got it covered with our custom kitchen remodeling service. Alternatively, if you're happy with your existing floor plan and don't need to move any walls or fixtures, but you want to completely remodel your kitchen, our EXTREME 10-Day kitchen remodeling service is the perfect solution. This remodeling service is a fast and affordable way to remodel your kitchen in less than two weeks.
Some of the most popular features of our kitchen remodeling services include new:
Countertops
Cabinets
Lazy Susans
Appliances
Sinks
Faucets
Lighting
Islands or bars
And much more
The best way to learn about the advantages of the kitchen remodeling services that we offer for your Nassau County home is to contact us and speak with one of our associates and schedule a complimentary in-house consultation. We also offer a variety of other home remodeling products and services to consider, including bathroom remodeling, basement finishing, siding, roofing, and much more.
Extra 5% Savings + 25% off Install!
For a limited time only, save and extra 5% on your project PLUS 25% off Install AND NO money down, NO payments, NO interest for 18 Months* - Act now! *SUBJECT TO CREDIT APPROVAL. Offers are for the stated time period only and may not be combined with any other offers, promotions or discounts. Some restrictions apply. Offer not applicable in all counties due to Consumer Affairs Restrictions. Offer not applicable in or to residents of New York City.