What Does it Mean to be a Certified Kitchen Designer?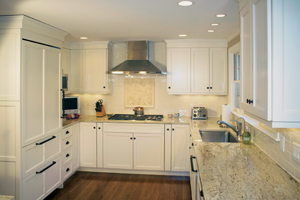 At Alure Home Improvements, we're pleased to employ Certified Kitchen Designers who can help homeowners with all of their kitchen remodeling needs. Yet, what does it mean to be a Certified Kitchen Designer? How do you become one? What are the advantages of working with a professional designer? And is it really necessary to work with a designer if you already have a pretty good idea of what your dream kitchen is going to look like?
For starters, a Certified Kitchen Designer is someone who has exhibited excellence in the kitchen designing industry and has met nationally set standards by the National Kitchen and Bath Association (NKBA). They specialize in design, planning, and execution of residential kitchens, and have exhibited an advanced knowledge of both the technical side of kitchen design as well as the communication skills needed to interact effectively with homeowners during the remodeling process.
More specifically, a Certified Kitchen Designer has a minimum of:
Three years of full-time residential kitchen design experience
Four years of related industry experience
60 hours of NKBA professional development courses or approved college coursework
Two client references
Two professional affidavits
A passing grade on the Association of Kitchen and Bath Designers (AKBD) academic exam and Certified Kitchen Designer design exam
As you can tell, not just anyone can call him or herself a Certified Kitchen Designer. It's a title that is hard-earned and requires a tremendous, long-term commitment from the individual. As a result, when you come to Alure Home Improvements and sit down with one of these professionals you can rest assured that you're in good hands and working with an individual who is extremely well-versed in kitchen design and will help you design the perfect kitchen for your home.
Even if you have a pretty clear vision in your mind of how you want the finished product to look, we can work with you to ensure that your plan will complement the décor of your home, include optimal traffic patterns, enhance the architectural attributes of your home, and more.
For more information on the Certified Kitchen Designers at Alure Home Improvements and our kitchen remodeling services, contact us today.
Extra 5% Savings + 25% off Install!
For a limited time only, save and extra 5% on your project PLUS 25% off Install AND NO money down, NO payments, NO interest for 18 Months* - Act now! *SUBJECT TO CREDIT APPROVAL. Offers are for the stated time period only and may not be combined with any other offers, promotions or discounts. Some restrictions apply. Offer not applicable in all counties due to Consumer Affairs Restrictions. Offer not applicable in or to residents of New York City.