Design a Kitchen
Design a Kitchen in Long Island that Will Meet All of Your Needs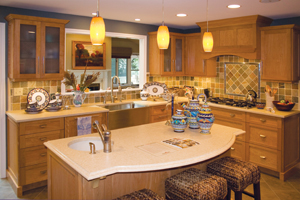 When you set out to design a new kitchen for your home, it is only natural that you might feel a little overwhelmed. Sure, you might have a broad idea of how you want your kitchen to look or feel, but knowing how to bring the room together takes experience, expertise, and time that you might not be able to dedicate to the project yourself. Fortunately, you don't have to go it alone.
If you're at a point where you're finally ready to invest in that dream kitchen you've always wanted, it makes sense to work with a team of experienced professionals who can translate that vision into the kitchen that exceeds even your wildest fantasies. And, when you come to Alure, you'll have access to professionals who have the wealth of knowledge needed to make the project easy, fun, and rewarding.
For example, to help you design a kitchen that beautifully complements the interior of your home, we have a staff of interior designers who are well versed in not only the latest trends but also the classic design touches to help you create a gorgeous kitchen that you'll want to show off to your friends.
Yet, there's also much more to designing a kitchen than just superficial design choices. You also want to make sure that the kitchen is laid out correctly, in a way that works with the traffic flow of your home. To help you identify the ideal floor plan, our Certified Kitchen Designers and space planners can work with you to explain your options and create the perfect kitchen environment. Something as simple as having your food preparation located within reaching distance of the stove is an important consideration.
Above all else, we want this experience to be exciting, stress-free, and efficient. To learn more about how our extraordinary professionals can help you design a kitchen that will meet all of your needs and look fantastic in your home, contact us today.
Extra 5% Savings + 25% off Install!
For a limited time only, save and extra 5% on your project PLUS 25% off Install AND NO money down, NO payments, NO interest for 18 Months* - Act now! *SUBJECT TO CREDIT APPROVAL. Offers are for the stated time period only and may not be combined with any other offers, promotions or discounts. Some restrictions apply. Offer not applicable in all counties due to Consumer Affairs Restrictions. Offer not applicable in or to residents of New York City.