4th Annual Summer Remodeling Fashion Show

Summer Remodeling Fashion Show
Get in the know and join us for Alure's 4th annual summer remodeling fashion show.
A Journey though time – a look at AGELESS DESIGN concepts!
LEARN: Explore the journey through time and see how elements from various decades are still used in today's designs. What's hot, what's not and see the hottest trends in remodeling products, technology, fixtures, colors and space design. If you are considering any type of work on your home in the next few years, don't miss this exciting event!
EXPLORE THE POSSIBILITIES: Free* 15 minute design imaging session on your kitchen, bathroom, siding, windows, roofing, dormers or extension.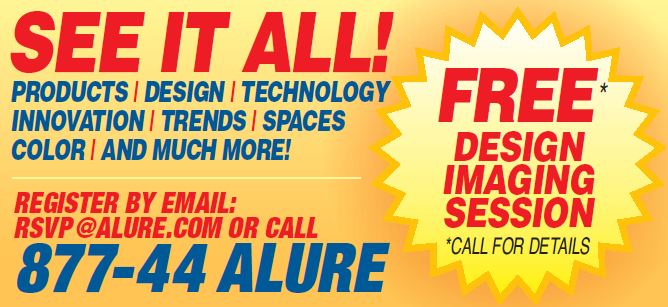 SAVE: $AVE BIG with exclusive savings and promotions just for attending!
EAT: Complimentary food and beverages for all attendees, brought to you by Felico's Catering & their sausage truck
KIDS ACTIVITIES: Arts & crafts tent, balloon animals, karaoke, bounce house & more!
ENJOY: Live cooking & wine seminars
REGISTER: [email protected] or call 516-396-9190
WHERE: Alure's Showroom. 1999 Hempstead Turnpike, East Meadow, NY 11554
WHEN: Saturday August 6th & Sunday August 7th 11am-4pm each day
FACEBOOK EVENT PAGE: Stay updated with our event page
Click here to check out some highlights from our previous fashion shows.