Transform Your Dining Room With Fun Candle Decor For The New Year

Transform Your Dining Room With Fun Candle Decor For The New Year
What could be better than decorating the home that you love so much for the holidays? The New Year brings plenty of celebration opportunities, and there are many ways to make the most of them. Here are some fun and inspiring ideas for using candles to transform your dining room into the perfect party room.
Wine Glasses and Floating Votives
Wine glasses and New Year's Eve go perfectly together. Use clear wine, champagne, or even martini glasses as a quirky candle-holder alternative. The shape of the glass gives this "candle holder" a celebratory vibe. You can fill the glass with water, and float votive candles on top. You could even add some flower petals for a touch of color
An Intimate Party
If you are hosting a relatively small crowd for your holiday party, consider making over your dining area so that it resembles an intimate bar or restaurant. You can do this quickly by using transparent red, orange, or purple candle holders.The light of the flame through the glass will be soft and flickering, with a romantic vibe.
Pure Romance
Are you going to spend New Year's Eve at home with your special someone? Create an evening of romance by topping surfaces with many white pillar candles — the more, the better. If your dining room has a fireplace mantle, fill it with candles.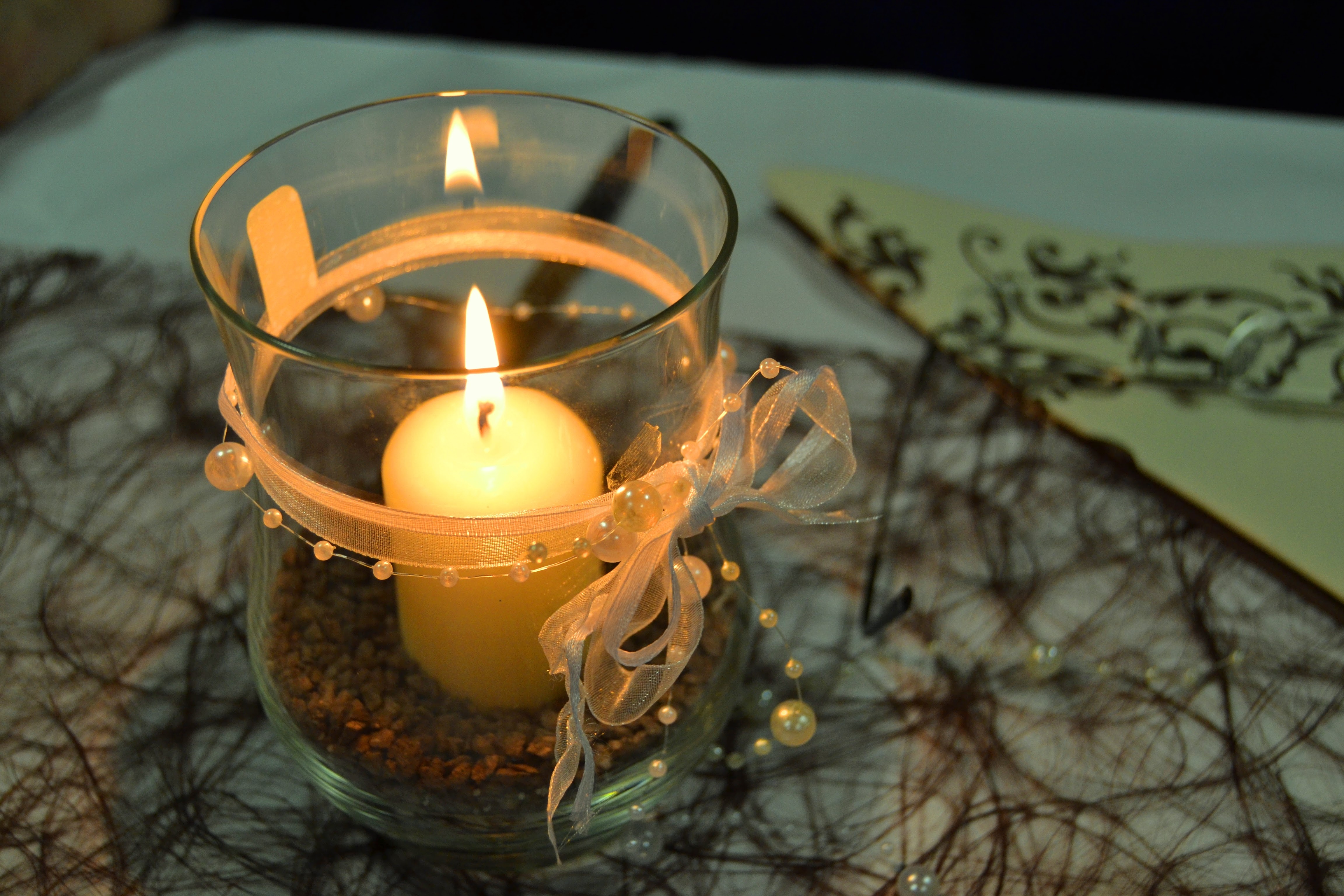 Little LEDs
LED lighting is very affordable, and comes in many varieties and colors. Soft yellow LED lights can work well with candle lighting and can add to the lighting scheme that you are creating with your New Year's decor. Consider stringing up white lights around a window, bar, or large mirror for extra sparkle.
Disco-Ball Baubles
Have you seen the Christmas tree ornaments that look like little disco balls? These shiny silver baubles work very well in home decorating for the holidays in more places than just on the tree. Turn a glass bowl into an eye-catching centerpiece created with a candle as well as filling it with little silver balls. The flames will reflect off of the surfaces gorgeously.
Upside Down Wine Glasses
Here's another idea that we love, using wine glasses and Christmas tree ornaments: flip a wine glass upside down, and use the base as a platform for your candle. Fill the bottom of the glass with decorations that match your color theme. This glamorous decor is excellent because it is easily made with items you already have in the house.
New Year's is a time to stop and celebrate how far you have come, and what you hope to accomplish next. Your home deserves to be in top shape for the holidays. Create the perfect space for your celebration, whether it is a lively bash or an intimate gathering of two. We hope these ideas help you find just the right way to transform your dining room area with candles.
About The Author: Jane Sandwood is a professional freelance writer with over 10 years experience across many fields. She decided to move into freelancing to take advantage of the flexibility and work-life balance it offers. When Jane isn't writing, she is busy spending time with her family. She also enjoys music, reading and travelling whenever she can.