Consider the Advantages to Installing a Shower Liner in Your Queens, NY Home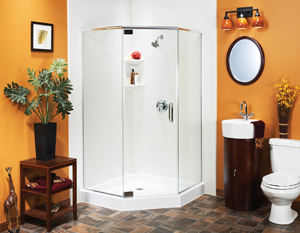 At Alure Home Improvements, we are proud to offer shower liner options to homeowners throughout the Queens area. These liners are custom manufactured and come with all sorts of features and benefits that make them a worthwhile investment into your home. If your shower has seen better days or you're just looking to make a change, our acrylic liners might be the perfect option. Plus, our certified professionals will be able to install your new shower liner in only about a day, allowing you to enjoy your like-new shower in less time than you may have ever thought possible.
As a full-service home improvement company, we pride ourselves on our ability to handle bathroom remodeling projects of nearly any size and scope. Some homeowners come to us looking to completely gut and remodel their bathroom, and we have the experience and expertise to accommodate these needs. Other homeowners don't have the time, resources, or interest in a complete remodel, but would like to make a change to their bathroom. In this instance, a shower liner is a great option. Manufactured to fit the existing shower like a glove, a liner is a great way to completely conceal cracks, stains, and out-of-style designs. This makes your shower look brand new without having to actually replace the shower.
What's more, these liners can be customized in terms of:
Base color, Choose from alabaster white, quarry topaz, platinum grey, and sandshell beige
Wall surrounds, We offer numerous simulated marbles, granites, travertines, and tile patterns
Optional accessories, Outfit your shower liner with a soap dish, safety grab bars, a towel rack, comfortable seat, and anything else you might require
Another benefit to our liners is that they are made from 100-percent virgin acrylic, which is extremely resilient. In fact, our liners are guaranteed to never fade, chip, or peel for as long as you own your home. Plus, they are protected by an anti-microbial layer of protection that prevents the growth of mold and mildew, cutting down on upkeep in the bathroom.
If you are interested in learning more about the shower liner products that we offer in the Queens area, contact us today. We also specialize in bathtub replacement,  installing tub liners, and all sorts of other bathroom remodeling services.