Bathtub Replacement in Queens & Throughout the Area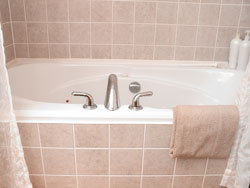 The bathtub replacement service that we offer at Alure Home Improvements in Queens is a practical solution if you're looking to rejuvenate the bathroom in your home. As a full-service home remodeling company with decades of experience in the industry, we are equipped to handle every aspect of your next bathroom remodel. In fact, we offer a tremendous selection of bathtubs, sinks, countertops, and everything else you'll need to turn your old bathroom into one of the most beautiful rooms in your home. Whether you're getting ready to put your home on the market and want to make sure that your bathroom looks great or you're simply ready to treat yourself to the master bathroom that you've always wanted, turn to Alure Home Improvements.
Over the years, bathtubs have a tendency to naturally become worn, which can take away from the overall aesthetic of the room and can become an unpleasant focal point. In this instance, bathtub replacement can be an essential component of any remodel.  However, this isn't to say that the only reason to consider replacing your bathtub is for aesthetic reasons. Many homeowners are also increasingly investing in walk in tubs in an effort to make their bathroom safer. For example, at Alure Home Improvements, we're pleased to offer gorgeous Jacuzzi® walk in tubs that are designed to be extremely easy to enter and exit. These tubs also boast slip-resistant flooring, ergonomic chair-height seats, safety grab rails, and conveniently located controls to ensure the safest possible bathing experience. Perfect for everyone from seniors and those who struggle with limited mobility to those with circulatory issues or individuals who are simply looking for a comfortable place to soak after a long day, these tubs are a sensible option.
Above all else, the professional bathroom remodelers at Alure Home Improvements are committed to ensuring your complete satisfaction. To learn more about our bathtub replacement service, as well as how we can help you meet your bathroom remodeling needs, schedule a consultation with one of our designers. We'll gladly offer bathroom remodeling ideas and provide you with a complimentary quote for your next bathroom upgrade.
Extra 5% Savings + 50% off Install!
For a limited time only, save and extra 5% on your project PLUS 50% off Install AND NO money down, NO payments, NO interest for 18 Months* - Act now! *SUBJECT TO CREDIT APPROVAL. Offers are for the stated time period only and may not be combined with any other offers, promotions or discounts. Some restrictions apply. Offer not applicable in all counties due to Consumer Affairs Restrictions. Offer not applicable in or to residents of New York City.