Bathroom Remodelers – Queens
Bathroom Remodelers for Your Home in Bayside, Howard Beach, Forest Hills & Throughout Queens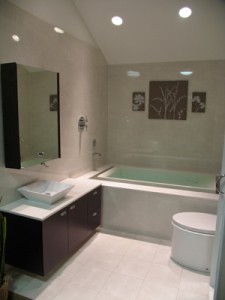 The professional bathroom remodelers at Alure Home Improvements are standing by to help you transform the bathroom in your Queens home into a room that you'll want to show off to friends and family. As a full-service home remodeling company, the team at Alure is able to handle every aspect of the bathroom remodeling job, from the initial design through the completion of construction, on time and on budget.
Our bathroom remodelers have extensive experience meeting the remodeling needs of local homeowners in the Queens community and we pride ourselves on exceeding expectations every time. We're never satisfied until you are. When you're considering remodeling your bathroom, we invite you to visit our showroom and work with our designers to help you design the bathroom of your dreams. Once a plan is in place, our bathroom remodelers will get to work when it's convenient for you and will work as quickly and efficiently as possible to limit the interruption in your daily routine.
We offer a wide variety of new bathroom features in several different styles, textures, patterns, and colors, including:
Bathtubs
Showers
Cabinets
Mirrors
Drawers
Countertops
Sinks
Fixtures
Lighting
And more
In addition to our traditional bathroom remodeling service, our bathroom remodelers offer our EXTREME 5-Day remodel. This service is intended for homeowners who are looking to fully remodel their bathroom but are happy with the existing floor plan of their room and won't require any walls or fixtures to be moved.
To learn more about remodeling the bathroom in your Queens home, contact the bathroom remodelers at Alure Home Improvements today. We're also pleased to offer several other home remodeling services, including kitchen remodeling, basement finishing, siding installation, and much more.
FREE 5FT Tub Sliding Door With Your Complete Bathroom Remodel
For a limited time only, get a FREE 5FT Tub Sliding Door with your Complete Bathroom Remodel PLUS NO money down, NO payments, NO interest for 18 Months* - Act now! *SUBJECT TO CREDIT APPROVAL. Offers are for the stated time period only and may not be combined with any other offers, promotions or discounts. Some restrictions apply. Offer not applicable in all counties due to Consumer Affairs Restrictions. Offer not applicable in or to residents of New York City.