Install Vinyl Siding on Your Home in Oceanside, New Hyde Park, Seaford & Across Nassau County, New York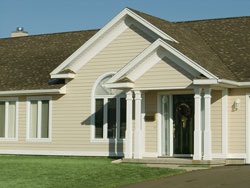 Deciding to add vinyl siding to your home in Oceanside, Valley Stream, Bellmore, or anywhere else in Nassau County, NY, is an excellent choice. This siding is extremely popular across the nation because of its gorgeous look and durability. If you are tired of struggling to keep the siding of your home looking its best, talk to the professionals at Alure Home Improvements and learn how our vinyl siding might be just the thing you need.
Vinyl is a practical building material, in part, because it does not absorb water. The trouble with natural wood is that, while it is extremely attractive, it tends to succumb to water damage over the years. When wood swells and freezes, it puts a tremendous strain on your siding, which can cause cracking, rotting, and general wear and tear. Vinyl siding, on the other hand, resists water damage, which helps keep it looking as good as new, no matter what the weather is doing outside.
Other advantages to our vinyl siding include:
Vinyl is extremely low-maintenance and usually requires only soap and water to keep looking clean.
Vinyl siding also never needs to be painted or stained, further cutting down on annual upkeep.
Our vinyl siding is energy efficient and is put up with an insulating foam backer, taped at the seams, that helps prevent costly heat transfer into and out of the home.
We offer siding in many different colors and styles and also happily install soffit and fascia to ensure that your specific aesthetic needs are met.
Another benefit to working with Alure Home Improvements is that we can show you what your vinyl siding will look like on your home before it's installed. Using state-of-the-art design imaging technology, our design team can use our visualization software to digitally alter a photograph of your home to add beautiful new siding in the color and profile style of your choice.
If you are interested in installing vinyl siding on your home in Nassau County, New York, and aren't quite sure where to start, contact Alure Home Improvements. We'll gladly walk you through your many options and help you make the right choice for your house.
$500 OFF*
Complete Siding Package
Expires 2/28/2019. Minimum Purchase of $9,999; Offers are for the stated time period only and may not be combined with any other offers, promotions or discounts. Offer not applicable in all counties due to Consumer Affairs Restrictions. Offer not applicable in or to residents of New York City. Call for details on scheduling FREE* imaging session.