Sunrooms from Joyce Manufacturing at Alure Home Improvements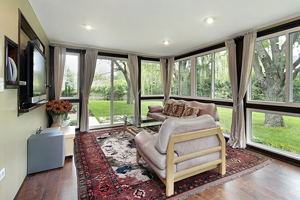 One of the benefits to turning to Alure Home Improvements when you're in the market for a sunroom is that we are proud to partner with Joyce Manufacturing, one of the nation's most trusted manufacturers of sunrooms. We understand that when you're considering adding onto your home, you need to be sure that you are making a wise investment that is durable, beautiful, and intuitively designed. By offering sunrooms from Joyce Manufacturing, local homeowners can be certain that they'll be able to find the perfect sunroom that meets both their aesthetic and practical needs.
The great part about offering sunrooms from Joyce Manufacturing is that homeowners have the opportunity to choose from four different sunroom options for their home, including the:
Oasis® Leisure Room 2000®, A gorgeous seasonal vinyl sunroom that comes with fiberglass screens, sashes that slide on brass rollers, and optional Low-E insulated glass
Oasis® Leisure Room 2600®, A vinyl sunroom that can be used seasonally to year round, and features lift-out sliding windows and meets high wind load requirements.
Oasis® Leisure Room 3000®, This patio enclosure can be enjoyed year round and comes standard with energy efficient tilt-in windows for maximum ventilation and easy cleaning.
Oasis® Leisure Room 4000®, This sunroom boasts floor-to-ceiling glass sliding doors that allow for maximum visibility and vinyl siding doors that are welded and easy to use, providing seasonal to year round enjoyment.
As you can tell, each of these sunrooms offers its own distinct advantages. To find out which one will work best for your home, fit your budget, and provide you with the features you require, contact us and schedule a consultation with one of our professionals. We'll be happy to walk you through your options and provide you with a complimentary quote. You're also invited to stop by our three-story showroom in East Meadow, New York, to explore your sunroom options in person.