The History of Sunrooms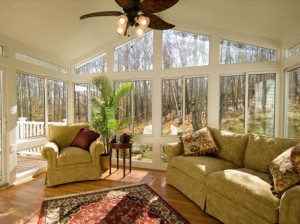 You've heard them called 100's of different names, sunrooms, sun parlors, sun porch- just to name a few. But where did, what we here at Alure home improvements call sunrooms, actually get their start? There are a few resources out there that basically say there are two different stories. Here is a look at both of them.
It is first believed that sunrooms got their start as covered porches and patios attached to old farm houses. As you can imagine however, weather conditions meant that the covered porch was only good for a few months of the year. It was because of this, folks looked for new ways to extend the duration they'd be able to use the space. Therefore they added storm windows to the structure to keep the elements out yet keep the natural beauty and views intact. As the trend evolved so did the structures and materials right up until present day.
The second theory has a different origin yet a similar outcome. Some of the early sunrooms were to be for plants and for horticulture purposes. Similar to what you would call a greenhouse in the current day. As more and more people enjoyed spending time in their greenhouse they began moving more and more furniture into the space until it became more of a living area.
Whichever story you believe to be true, we know now that sunrooms have been evolved enough that they are more durable than ever and built to be enjoyed by all.
For more information on adding a sunroom to your home, schedule a free, easy consultation, or call us for more information!