Roofing Professionals Serving Long Island, NY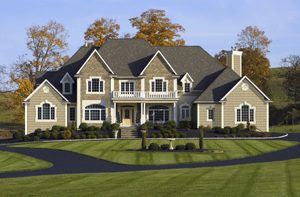 When it comes to roofing in Long Island, New York, one name stands above the rest: Alure Home Improvements. Since 1946, our team of highly trained home remodelers has helped our neighbors with their various home improvement projects, and today we are a nationally regarded leader in the remodeling industry. If you need a new roof installed, make the decision that countless of your neighbors have already made by putting your trust in our dedicated roofing experts.
There are many advantages to the roofing service that we offer in Long Island, NY. As a full-service home remodeler, we are equipped to handle roofing projects of all kinds, so no matter the unique architecture of your home, the age of your roof, or your roofing material preference, we can handle the job. Additionally, at Alure Home Improvements, we:
Offer a wide variety of colors and styles to ensure that we can design and install a roof that will complement the exterior of your home while improving your overall curb appeal.
Feature roofing materials from a number of leading roofing manufacturers, providing peace of mind that the roofs that we install are of the highest quality and craftsmanship.
Put a tremendous premium on our installation process and have developed our own 7-step roofing installation process, which ensures the best possible protection.
Are committed to limiting the interruption in your daily routine and will thoroughly clean the worksite when we're done.
Plus, we offer state-of-the-art design imaging technology that can allow you to see what your new roofing will look like on your Long Island, NY, home before we get started. This can help you explore different options and find the new roof style that looks best on your house. We also handle all aspects of exterior remodeling so if you are looking to enhance your curb appeal with new siding, windows, a portico or porch in conjunction with your roofing project, we can accommodate all of those needs. For more information, contact us today.
Get a Free 25 Year Material & Labor Warranty
For a limited time only, Get a Free 25 Year Material & Labor Warranty. PLUS NO money down, NO payments, NO interest for 18 Months* - Act now! *SUBJECT TO CREDIT APPROVAL. Offers are for the stated time period only and may not be combined with any other offers, promotions or discounts. Some restrictions apply. Offer not applicable in all counties due to Consumer Affairs Restrictions. Offer not applicable in or to residents of New York City. *Call for details on scheduling the imaging session.