Windows – Krypton & Argon Gas
How do Krypton & Argon Gas Fills Work in Windows?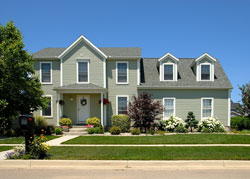 Over the years, many advancements have been made in window technology in order to help make windows as energy efficient as possible. One such improvement has been the implementation of gas fills between window panes. The use of argon or krypton can greatly limit the transfer of heat into and out of the home, which in turn makes it easier and more affordable to keep the temperature regulated year round. So, how do argon and krypton gas fills work?
Traditionally, the space between two panes of glass in a window was filled with air or nitrogen prior to being sealed. The problem is that air currents between the panes still allow heat to be transferred to the top and bottom of the window. By introducing argon or krypton gas, conduction and convection is slowed because these gasses are significantly more viscous, meaning that energy waste through replacement windows is limited. Both types of gas are nontoxic, clear, and odorless, however, since krypton tends to boast slightly better thermal performance, it is often preferred when the space between window panes is smaller than might normally be desired. Argon gas, or a mixture of argon and krypton, is extremely common in many energy efficient windows because it combines affordability with performance.
It should also be noted that gas fills are used in conjunction with Low-E window coating that reflects heat away from the vinyl windows. The combination of these two features can greatly improve the energy efficiency of a home, which can have a noticeable impact on your monthly heating and cooling costs.
If you are interested in making your home more energy efficient, reducing your carbon footprint, and saving money on energy costs in the long-term, contact Alure Home Improvements to learn about our various high performance windows. One of our representatives will be glad to explain the numerous types of windows that we currently offer.