Why the Glass on a New Window in Your Nassau County Home Makes a Difference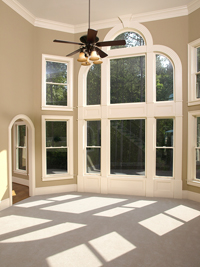 When you're exploring window styles for your home in Nassau County, pay close attention to the glass and window panes. While these may seem like small details, the right kind of window glass can make all of the difference in your new windows. At Alure Home Improvements, we're proud to offer a tremendous selection of windows that are not only extremely attractive but also designed for energy efficiency, which can have an immediate impact on your monthly heating and cooling costs.
While you may not be inclined to pay much attention to the glass when you're shopping for vinyl windows, not doing so can be a big mistake. It's important to understand that built-in features in the window, such as Low-E coating, can pay immediate dividends in your home. Low-E coating refers to a special "low-emissivity" coating that is applied to the window during manufacturing, and it is designed to improve the window's ability to resist heat flow. In other words, this coating helps keep warm air outside of the home in the summer and inside during the cold winter months, making it easier and more affordable keep the temperature of the home regulated.
The best way to determine whether the window style that you're looking at is equipped to limit energy waste is to look for the ENERGY STAR sticker. This designation means that the window has been designed to meet federally mandated standards for energy efficiency and likely comes with the benefits you require.
To help you find the replacement window options with the type of glass you require for your Nassau County home, contact us to speak with the experts at Alure Home Improvements. We'll gladly walk you through all of your options and ensure that the replacement windows that you select will meet all of your specific needs and look great on your home.