Installing Vinyl Windows on Your Huntington Home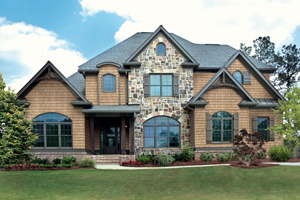 If you're looking to improve the energy efficiency of your Huntington home, consider investing in vinyl windows from Alure Home Improvements. Our windows feature the same high-performance glass technology that was recently used to upgrade the Empire State Building and are designed to greatly inhibit the transfer of heat flow into and out of the home. Whether you're tired of the rampant fluctuation in your monthly heating and cooling bills, you can feel a draft in your home from old leaky windows, or you're simply concerned with your carbon footprint, our vinyl windows are an excellent option.
The advantage to vinyl windows is that they are designed to inhibit costly heat transfer. As a result, homes outfitted with these state-of-the-art windows tend to do a better job deflecting the heat from the sun in the summer and retaining warmth in the winter. This not only helps keep the home more comfortable year round, but also makes it easier to keep the temperature of the home regulated, which can lead to significant cost savings on monthly heating and cooling bills.
In addition to being thermally efficient, our windows are also highly customizable and can be designed to meet your specific aesthetic needs. Choose from various:
Interior and exterior colors
Sunblinds
Screen options
Art glass styles
Decorator grid options
Window styles
And more
Since 1946, the team at Alure Home Improvements has been dedicated to exceeding the expectations of local area homeowners. We'll go above and beyond to make sure that you are completely satisfied with your new windows and will make the entire window installation process as quick and easy for you as possible. Our windows are also backed by lifetime manufacturers' warranties, so you can rest assured that you are investing in a high-quality product.
To learn more about the replacement windows that we offer to homeowners in Huntington, contact us today. We also offer a number of additional home remodeling services in the area, including basement finishing, kitchen remodeling, and bathroom remodeling, among others.