Enjoy a Remodeled Kitchen in Your Westbury, New York Home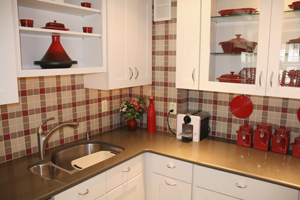 If you would like a remodeled kitchen in your Westbury, New York home, speak to the professionals at Alure Home Improvements. Our highly experienced and knowledgeable staff is standing by to help you design the kitchen you've always wanted. Whether you're a burgeoning chef and you want to improve your food prep area, you have a large family and your kitchen gets a lot of foot traffic, or you just want to design something simple and accessible, we can design a kitchen that exceeds your high expectations.
At Alure Home Improvements, we have all sorts of full-time staff members who can help you create the remodeled kitchen of your dreams. These fulltime employees include:
Certified Kitchen Designers who are nationally recognized for their experience and expertise in kitchen remodeling
Space planners who can help you optimize the layout of your kitchen and maybe even increase the storage options in the room
Interior decorators who are highly knowledgeable about the latest trends and classic design choices in kitchen remodeling; no matter your specific aesthetic preferences, these professionals can help you create a kitchen that exudes your sense of style
Kitchen remodelers who are experts in turning your kitchen design into a reality; we can handle jobs of all sizes and styles, so even if you want to blow out a wall and expand the kitchen by several feet, we've got you covered
No matter your unique expectations for your remodeled kitchen, you can rest assured that you'll be satisfied with our handiwork, our fantastic team will go to extremes to build your dreams.
To learn more about the many ways we can help you create a remodeled kitchen that meets your many needs in your Westbury, NY home, contact us today.
Alure Online
Specials
View A Complete List Of Our Specials
Some restrictions apply, click the button below for more details.