Enjoy a New Kitchen in Your Hicksville, NY, Home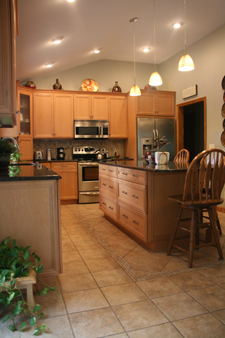 At Alure Home Improvements, our highly trained team can install the new kitchen in your Hicksville, New York, that you've always wanted. If you're like most people, the kitchen is undoubtedly one of the most important rooms in your home, so it makes sense that you would want the room to have the features you need and a style that exudes your personal aesthetic preferences. Rather than settling for an old kitchen that you don't quite love, why not invest in a new kitchen that you'll be eager to show off to friends and family alike?
Designing a new kitchen should be a fun process, and when you turn to Alure Home Improvements, you'll be able to work with dedicated professionals who are eager to help you design a kitchen that is right for your home. We can help you create the kitchen that is right for your home, exploring all sorts of colors, patterns, materials, and products. This is a great way to consider combinations you might have never thought of before.
When it comes to installing a new kitchen, we offer two distinct services:
10-Day EXTREME kitchen remodeling, The entire gut and remodel is completed by our team in just two weeks, far less time than is often associated with major kitchen remodeling projects. Our 10-Day service is intended for homeowners who don't need walls or fixtures moved but are eager to enjoy an otherwise new kitchen in their home.
Custom kitchen remodeling, We are a full-service home remodeler, which means our team is more than capable of knocking down walls and drastically altering the layout and floor plan of your kitchen. With our custom kitchen remodeling service, if you can imagine it, we can do it.
If you are interested in enjoying a new kitchen in your Hicksville, NY, home, contact us to learn about our kitchen remodeling services. We'll be glad to walk you through our process, explain your financing options, and help you design a gorgeous new living space.
Alure Online
Specials
View A Complete List Of Our Specials
Some restrictions apply, click the button below for more details.