Remodeling an Old Kitchen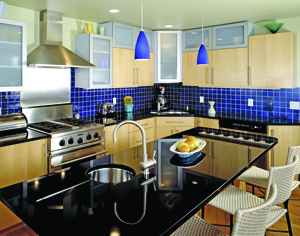 Remodeling an old kitchen should be fun. Sure, it's a lot of work and you might understandably feel a little overwhelmed at the prospect of starting such a big project, but this is no reason to be discouraged. Perhaps you've found a house that you really love, but the kitchen clearly hasn't been touched since the 70s. Or, maybe you are finally tired of your appliances, don't really love your countertops, and would love more efficient storage options. Whatever your situation, remodeling the kitchen is always a great way to breathe new life into your home and create a living area that will be attractive, practical, and something to be proud of. So how do you get the most out of your new kitchen?
Take advantage of all of the resources available to you, Usually, a kitchen remodeling project isn't a particularly time-sensitive event. You probably have time to do your homework and get a better sense of what you want out of your new kitchen. Read blogs. Look at photos online. Sign up for remodeling magazines. Ask your friends and neighbors for advice. Peruse home remodeling stores. Talk to experts. Get the facts!
Prioritize, Even if you're ready for a full gut and remodel, it's always important to have clear expectations for your new kitchen. Determine what is most important to you and make sure that your top priorities are addressed during the remodel. The last thing you'll want to do is invest time, resources, and energy into a new kitchen only to realize that the finished product isn't quite right and that you wished you'd splurged for the marble countertops you really wanted.
Watch out for fads, Obviously a kitchen remodel is a big investment, and while you might love the look of a distinct, trendy kitchen that you saw online, just try and keep things in perspective. Is there a risk that your bold kitchen design might show it's age sooner than later, leaving you with buyer's remorse in a couple of years? It's obviously hard to predict what will be popular in the years to come, but just remember, the style of your old kitchen was undoubtedly popular at one point too.
Work with professionals, You might fancy yourself a weekend warrior who is handy with a hammer, but if you want to upgrade you old kitchen the right way, work with professionals. They'll be able to help you develop a great kitchen design, ensure that everything is installed correctly, and can provide a guarantee on their work that you can't. It's an investment, but a worthwhile one.
If you are interested in having some experts look at your old kitchen and help you determine the best course of action, contact Alure Home Improvements today. We're not here to pressure you. We just want you to have all the facts before you make the big decision.
FREE Stainless Steel Bosche Dishwasher ($750 Value) With Complete Kitchen Remodel
For a limited time only, get a FREE Bosche Dishwasher (Model #SHE3ARL5UC) with your Complete Kitchen Remodel PLUS NO money down, NO payments, NO interest for 18 Months* - Act now! *SUBJECT TO CREDIT APPROVAL. Offers are for the stated time period only and may not be combined with any other offers, promotions or discounts. Some restrictions apply. Offer not applicable in all counties due to Consumer Affairs Restrictions. Offer not applicable in or to residents of New York City.