Tips for Removing Stress During a Kitchen Remodel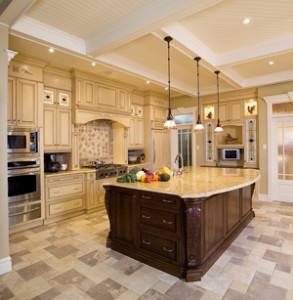 As exciting as it can be, when you decide to remodel your kitchen, it's only natural that you may also feel a little bit stressed. After all, investing in a kitchen remodel is a big choice for you and your family and even if you're thrilled with the plan, it can be a little daunting giving the final approval. At Alure Home Improvements, we've worked with local homeowners since 1946 on their home remodeling projects and understand what it takes to help ensure that the entire process is as painless and easy as humanly possible for you.
Here are some helpful tips for removing the stress and uncertainty from the kitchen remodeling experience:
Take the time to research the contractors you hire to do the job, are they reputable, experienced, and highly trained?
Explore your options, Learn about design trends, new style options, popular fixtures, and other aspects of the remodel to make sure that you are 100 percent satisfied with the layout of the kitchen before the project begins.
Prepare for the remodel well in advance, Take the time to pack up your kitchen before the remodelers arrive so that you know where everything is and can access your items if the need arises. You may also choose to set up a temporary kitchen to tide you over until the project is complete. You don't want to be scrambling to pack the day of the big remodel.
Try and maintain a normal routine, You'll want to avoid your kitchen to ensure your safety, but otherwise it is important to go about your daily business as normal. Keep the rest of your home clean and try to not worry about the about the remodeling team working in your home.
Ask questions, Your kitchen remodelers work for you and you should never be hesitant to ask questions about the project and future timeline.
To learn more about kitchen remodeling, contact Alure Home Improvements today and speak with one of our knowledgeable representatives.
Extra 5% Savings + 25% off Install!
For a limited time only, save and extra 5% on your project PLUS 25% off Install AND NO money down, NO payments, NO interest for 18 Months* - Act now! *SUBJECT TO CREDIT APPROVAL. Offers are for the stated time period only and may not be combined with any other offers, promotions or discounts. Some restrictions apply. Offer not applicable in all counties due to Consumer Affairs Restrictions. Offer not applicable in or to residents of New York City.