How Kitchen Remodelers Can Help You Optimize the Work Triangle in Your Home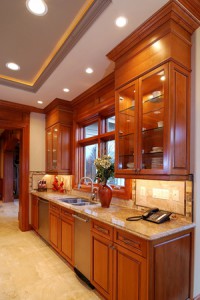 One of the more common expressions that you'll hear when it comes to kitchen remodeling is in reference to the "work triangle" in your kitchen. As any kitchen design professional will undoubtedly explain, when you're planning the layout of your new kitchen, you'll want to make sure that your work triangle is neither too big nor too small and is optimized to offer the ideal working area for food preparation. But what exactly is a work triangle, why is it important, and how do you plan the ideal work triangle for your kitchen?
While you may use your kitchen for any number of things, the top priority is usually for food preparation. The work triangle refers to the three areas of the kitchen that you typically move between when you're putting together a meal:
Food storage
Cleanup
Cooking
A direct line from each of these three stations to one another should create an invisible triangle, or the "work triangle" in your kitchen.
Generally speaking, the rule of thumb is that the work triangle should total 26 feet or less, with no single leg shorter than four feet or longer than 12. Furthermore, the work triangle should be near a countertop or other place for food preparation that is clean and easily accessible. That said, you don't want the triangle to intersect with a countertop or island by more than a foot, because this can interrupt the flow of the kitchen and interfere with the overall kitchen design. Also, no major traffic patterns should pass through the triangle.
While this may seem like a lot to keep track of, putting in the extra effort to design an optimized work triangle will help make food preparation be as efficient as possible and is a sign of an expertly designed kitchen.
To learn more about the work triangle and other design choices that go into kitchen remodeling, contact Alure Home Improvements and schedule a consultation with one of our kitchen remodelers today.
FREE Stainless Steel Bosche Dishwasher ($750 Value) With Complete Kitchen Remodel
For a limited time only, get a FREE Bosche Dishwasher (Model #SHE3ARL5UC) with your Complete Kitchen Remodel PLUS NO money down, NO payments, NO interest for 18 Months* - Act now! *SUBJECT TO CREDIT APPROVAL. Offers are for the stated time period only and may not be combined with any other offers, promotions or discounts. Some restrictions apply. Offer not applicable in all counties due to Consumer Affairs Restrictions. Offer not applicable in or to residents of New York City.