Kitchen Remodeling for Homes in Smithtown & the Surrounding Area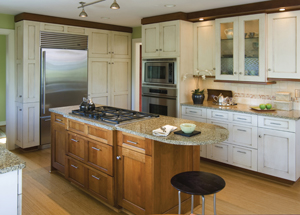 Remodeling the kitchen in your Smithtown home is an excellent way to invest in your home. The kitchen is usually one of the most lived-in rooms in the home and is often the first thing that a visitor notices about your home when they come by. To help ensure that your kitchen meets all of your practical storage and cooking needs while also looking great and complementing the décor of your home, Alure Home Improvements' team of highly experienced remodeling experts are standing by to meet your every need.
A lot more goes into remodeling the kitchen than simply replacing the countertops or refacing a few cabinets. A knowledgeable kitchen remodeler should be well-versed in what it takes to design a kitchen that is optimized for traffic flow, offers sufficient food preparation space, and meets the unique needs that every homeowner has for their kitchen. At Alure Home Improvements, our dedicated kitchen remodeling professionals work tirelessly to keep up to date with the latest trends in the industry, and we have several Certified Kitchen Designers (CKD) on staff who have surpassed national standards for aptitude and experience in the field.
We offer two main kitchen remodeling services:
Custom kitchen remodeling, This comprehensive kitchen remodeling service covers all aspects of the remodeling project. We can knock down walls, move fixtures, and upgrade your kitchen space to your heart's content. No job is too big or too small.
10-Day EXTREME kitchen remodeling, This service is intended for homeowners who like the space and layout of their kitchen but are looking to upgrade the look and feel. Our installers can upgrade countertops, lighting, cabinetry, storage space, flooring, and just about every other aspect of the kitchen in just 10 days, limiting interruption into your daily routine.
To learn more about the specific advantages to each kitchen remodeling service that we offer in Smithtown, contact us today and speak with one of our associates. You're also welcome to visit our three-story showroom in East Meadow, New York, to explore your options. In addition to kitchen remodeling, we also specialize in bathroom remodeling, basement finishing, siding installation, and more.
FREE Stainless Steel Bosche Dishwasher ($750 Value) With Complete Kitchen Remodel
For a limited time only, get a FREE Bosche Dishwasher (Model #SHE3ARL5UC) with your Complete Kitchen Remodel PLUS NO money down, NO payments, NO interest for 18 Months* - Act now! *SUBJECT TO CREDIT APPROVAL. Offers are for the stated time period only and may not be combined with any other offers, promotions or discounts. Some restrictions apply. Offer not applicable in all counties due to Consumer Affairs Restrictions. Offer not applicable in or to residents of New York City.