The Resources that are Available to You if You're Considering Remodeling Your Kitchen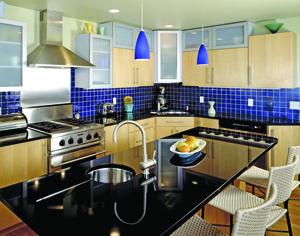 One of the most significant advantages to turning to Alure Home Improvements for your kitchen remodeling needs is the resources that we have available to you to help the process be as easy as possible. Some homeowners come to us with a very clear vision of how they want their newly remodeled kitchen to look, while others just know they want a change but aren't really sure how to get started. Regardless of your situation, our highly trained and experienced staff is standing by to help in our gorgeous three-story showroom in East Meadow, New York.
The last thing we want to have happen is for the kitchen remodeling process to become overwhelming or stressful. After all, giving your home a makeover should be a fun and exciting time. Yet, with so many options to choose from, color schemes to consider, countertops to explore, and unique furnishings to discover it can be tough to know where to begin. Fortunately, we have a lot of very talented people on staff who have your back. Here are just a few examples of the types of resources that are at your disposal at Alure Home Improvements:
Certified Kitchen Designers, These designers have met national standards in the kitchen remodeling industry and shown that they have an advanced knowledge in the kitchen design, planning, and execution of residential kitchens.
Interior designers, Our interior designers can help you select the décor and style that will complement your home, increase the resale value of your property, and ensure that your kitchen has the aesthetic appeal you desire.
Space planners- These professionals will work with you to outline the floor plan of your kitchen, create optimal traffic patterns, bolster storage space, and make sure that your new kitchen will fully meet your needs.
Environmentally conscious experts, Team members with hands-on experience helping homeowners ensure that their kitchen is "green," energy efficient, and sustainable.
Ultimately, we're here to help with all of your kitchen remodeling needs, big or small, and can help you design the kitchen of your dreams. To learn more about our kitchen remodeling services, contact us today or stop by our conveniently located showroom.
Extra 5% Savings + 25% off Install!
For a limited time only, save and extra 5% on your project PLUS 25% off Install AND NO money down, NO payments, NO interest for 18 Months* - Act now! *SUBJECT TO CREDIT APPROVAL. Offers are for the stated time period only and may not be combined with any other offers, promotions or discounts. Some restrictions apply. Offer not applicable in all counties due to Consumer Affairs Restrictions. Offer not applicable in or to residents of New York City.