Kitchen Remodeling Services Available in Queens County from Alure Home Improvements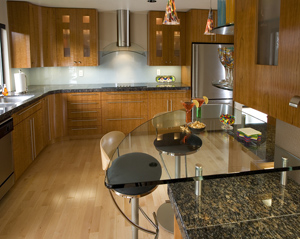 When you need help remodeling the kitchen in your Queens County home, turn to the experienced professionals at Alure Home Improvements. As a full-service home remodeler, our team can handle any remodeling job from start to finish, no matter the size or scope of the project. Whether you're interested in giving your kitchen an aesthetic facelift or you want to knock out walls and completely change the layout of the room, we'll be glad to help.
Since 1946, Alure Home Improvements has been proud to help local homeowners with their kitchen remodeling needs. Over the years, we've learned what it takes to design and install kitchens that are ideally suited for the home, and we employ a tremendous staff of professionals, each with a unique skill set, who can help you create the kitchen that you'll want to show off to friends and family alike. For instance, you'll have access to:
Certified Kitchen Designers(CKD), individuals who met national standards for aptitude and excellence in the kitchen remodeling field
Interior designers, individuals who can help you design the perfect style and décor for your new kitchen
Space planners, those who specialize in helping your design the ideal floor plan for your kitchen, which can provide optimal traffic patterns, ample cooking area, and bolster space
And much more
We understand that making the decision to upgrade your kitchen is a big choice, which is why we go to great lengths to make the entire project as quick and easy on you as possible. We'll help you design your dream kitchen, secure any necessary work permits, and then work tirelessly until the construction is complete and you're completely thrilled with the finished product. We even offer our 10-Day EXTREME kitchen remodeling service for individuals who are on a time crunch and don't need any walls or fixtures moved in their kitchen.
To learn more about the kitchen remodeling services that we offer in Queens County, contact Alure Home Improvements today. We also specialize in bathroom remodeling, replacement window installation, and other home remodeling services.
Extra 5% Savings + 25% off Install!
For a limited time only, save and extra 5% on your project PLUS 25% off Install AND NO money down, NO payments, NO interest for 18 Months* - Act now! *SUBJECT TO CREDIT APPROVAL. Offers are for the stated time period only and may not be combined with any other offers, promotions or discounts. Some restrictions apply. Offer not applicable in all counties due to Consumer Affairs Restrictions. Offer not applicable in or to residents of New York City.