Kitchen Remodeling in Oceanside, Valley Stream, Bellmore & Throughout Nassau County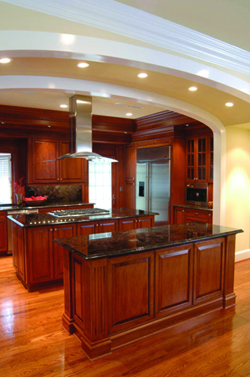 At Alure Home improvements, the kitchen remodeling service that we offer in Nassau County, NY, is second-to-none. Since 1946, we have honed our craft and can confidently say that our team has what it takes to handle your next kitchen remodeling job, no matter the scope of the project. Whether you have recently moved into a home in Oceanside and your kitchen is in desperate need of a facelift or the time has finally come to remodel your old kitchen in Valley Stream to better suit your current needs, our team is here to help.
One of the biggest advantages to turning to Alure Home Improvements is the incredible amount of resources we can place at your disposal. For instance, we offer you:
Access to Certified Kitchen Designers, space planners, interior decorators, "green" remodeling experts, and a number of other highly trained and certified specialists who help you create the ideal kitchen space.
An unbelievable selection of products to choose from for your kitchen. We want you to be able to design the perfect kitchen for your home, which is why we've gone to great lengths to amass all sorts of different colors, materials, patterns, and designs for you to consider.
Two different kitchen remodeling options. Our EXTREME 10-Day remodeling service is ideal for homeowners who are eager to get the job done quickly and don't need any walls knocked down or fixtures moved. Alternatively, we offer a custom kitchen remodeling service that can allow you to make changes to the room if need be.
The ability to plan the kitchen with our design imaging software. One of our team members can work with you to design a digital representation of what your new kitchen will look like, providing peace of mind that you're new kitchen will look great.
Above all else, we want you to be thrilled with the kitchen remodeling service that we offer and we'll go above and beyond to make the entire process as easy on you as possible. To learn more about remodeling the kitchen of your Nassau County home, contact us today. We proudly serve homeowners in Bellmore, Oceanside, Valley Stream, and all throughout the area.
Alure Online
Specials
View A Complete List Of Our Specials
Some restrictions apply, click the button below for more details.