Kitchen Remodeling Lighting
Tips for Incorporating Natural Light into Your New Kitchen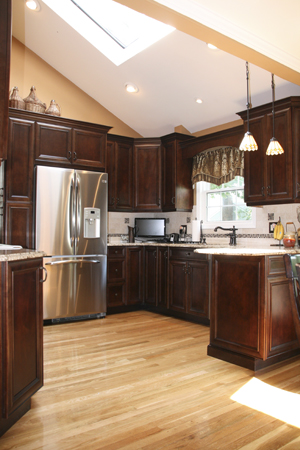 Remodeling your kitchen is a great way to let in a little natural light and help make the room feel cleaner, warmer, and more inviting. The trick is working with an experienced home remodeler who knows how to take full advantage of the architecture and layout of your home to best utilize the beauty of a sunny day.
Here are just a few examples of the changes you can make in your kitchen to let the sun shine in:
Install a skylight, If you have easy roof access, adding a skylight can be a great way to flood the kitchen with natural sunlight. This option is particularly appealing when trees, bushes, and other plant life tend to shade the other windows of the home.
Put in the right kind of replacement windows, Depending on what direction your kitchen is facing in the home, the kind of windows that you have installed can make all of the difference. Some windows, for example, are actually designed to let in sunlight to help warm the home in the winter.
Consider installing a glass wall or sliding doors, Increasingly, homeowners are becoming interested in incorporating glass into the layout of their home. This tends to make the kitchen look bigger and brighter.
Think about garden windows, One fun option is to install garden windows that let in sunshine to help plants, such as garden herbs, grow naturally in the home.
Making these choices is the fun part of kitchen remodeling. To help you make sense of all of your options, the team at Alure Home Improvements is standing by. We employ fulltime Certified Kitchen Designers, green remodeling experts, space planners, interior decorators, and all sorts of other professionals who are at your disposal. Contact us today to learn more!
FREE Stainless Steel Bosche Dishwasher ($750 Value) With Complete Kitchen Remodel
For a limited time only, get a FREE Bosche Dishwasher (Model #SHE3ARL5UC) with your Complete Kitchen Remodel PLUS NO money down, NO payments, NO interest for 18 Months* - Act now! *SUBJECT TO CREDIT APPROVAL. Offers are for the stated time period only and may not be combined with any other offers, promotions or discounts. Some restrictions apply. Offer not applicable in all counties due to Consumer Affairs Restrictions. Offer not applicable in or to residents of New York City.