Kitchen Remodeling in the Huntington Community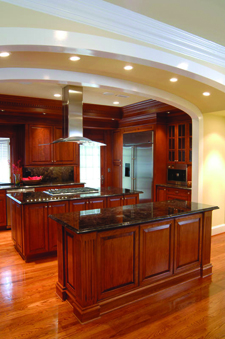 If you're thinking about remodeling the kitchen in your Huntington home, turn to the experienced professionals at Alure Home Improvements. Our highly trained team will be able to assist you in designing the kitchen of your dreams. Since 1946, we have helped local area homeowners with all of their remodeling needs. We are fully licensed and insured, and our team is equipped to handle kitchen remodeling projects of all sizes and scopes. Whether you want an aesthetic facelift or you're interested in completely gutting your kitchen and starting from scratch, we can help.
One of the greatest advantages to turning to Alure Home Improvements for your kitchen remodel is that we have a team in place that can help you with every single step of the process. Our kitchen designers, for instance, can offer their expertise in designing a kitchen that is optimally laid out to improve traffic flow, maximize storage space, and offer ample food preparation space. Our interior designers can also help you select the building materials that will best meet your aesthetic tastes and complement the décor of the rest of your home. We offer several different colors and styles of:
Cabinetry
Countertops
Flooring
Tile
Windows
And more
Once construction begins, our kitchen remodeling team will work tirelessly to get the job done as efficiently as possible. Each of our dedicated installers is extremely knowledgeable in the latest trends in kitchen remodeling and works tirelessly to stay trained in the most up-to-date installation techniques so that your expectations are exceeded.
For additional information about the kitchen remodeling services that we offer in Huntington, contact us today. We also specialize in a variety of other home remodeling services, including bathroom remodeling, basement finishing, siding installation, and much more.
Alure Online
Specials
View A Complete List Of Our Specials
Some restrictions apply, click the button below for more details.