A Kitchen Remodel Can Add Zest to Your Nassau County, NY, Home
Is your home's kitchen no longer giving you the inspiration you need to whip up delectable dinners? Or, have changes in your life made its layout nearly unusable for you and your family? Whatever the case may be, you could benefit from a kitchen remodel. And in Nassau County, New York, there's no one better to turn to than Alure Home Improvements. We've spent more than 75 years helping local homeowners bring their dream kitchens to life, and we can help you make the recipe for your own remodel, too.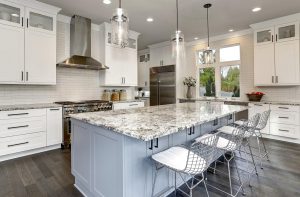 Leaving No Stone Unturned
At Alure Home Improvements, we offer a full suite of kitchen remodeling services and work closely with you to create the best fit for your unique wants and needs. We can outfit your kitchen with plenty of new items and fixtures, including:
Cabinets
Countertops
Islands
Sinks and accessories
Backsplashes
Flooring
Lighting
Electric
Plumbing
If you have the time, we can make your kitchen remodel more like a complete transformation with changes to the room's layout. Or, if you want a new kitchen sooner than later, we also offer a 10-day kitchen remodeling program. What's more, our team of kitchen designers is ADA-certified to effectively design usable spaces for people with limited mobility.
Contact Us Today
Are you ready to breathe new life into the heart of your Nassau County, NY, home with a kitchen remodel? Contact Alure Home Improvements today to learn more about our extensive suite of services and set up your free consultation with a pricing estimate down to the penny.
Alure Online
Specials
View A Complete List Of Our Specials
Some restrictions apply, click the button below for more details.