Skillfully Completed Kitchen Remodels Available to Homeowners in Glen Oaks, NY
The kitchen is a space for creating meals and memories. However, the functionality and aesthetic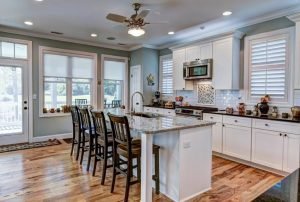 appeal of your kitchen can determine how frequently the space is utilized. At Alure Home Improvements, we recognize that, which is why we offer kitchen remodeling services that are second to none. If you are a homeowner in the Glen Oaks, New York, area, you can count on our team to give your kitchen that needed refresh. We have over 75 years of experience under our belt, so you can have peace of mind knowing we have the skills and experience needed to do the job right the first time.
Our Kitchen Remodels
We're a full-service kitchen remodeling contractor that can transform your space from top to bottom. And if you want to upgrade the appearance of your kitchen but don't want to make a serious time commitment to a large project, we have you covered with our 10-day kitchen remodel program.
With every kitchen remodel, we offer upgrades and additions that can enhance your space. Our team can work on:
Cabinetry, countertops, and islands
Backsplashes
Sinks and plumbing
Flooring
Lighting
Electrical work
Contact Us for a Kitchen Remodel Today
At Alure Home Improvements, we will help you find the best, most cost-effective options for your kitchen remodel. We also back our work with generous warranties and will make sure our workspace is as clean as possible.
To learn more about the kitchen remodels we complete for Glen Oaks, NY, homeowners, contact us today to set up your free consultation. We look forward to working with you.
Alure Online
Specials
View A Complete List Of Our Specials
Some restrictions apply, click the button below for more details.