Unmatched Kitchen Remodel Services Available to East Elmhurst, NY, Homeowners
Do you want to get creative in the kitchen, or maybe use the space to entertain family and friends?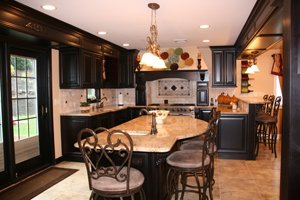 Having a functional kitchen is key, especially because this space is highly utilized. However, if your kitchen is not up to par, being in it may feel like nothing more than a headache. That's where the professionals at Alure Home Improvements come in.
For over 75 years, we have proudly completed top-quality kitchen remodels for homeowners in the East Elmhurst, New York, area. When you partner with us, you can expect our skilled team to complete your project with flawless workmanship and unmatched customer service every step of the way.
The Kitchen Remodels We Complete
We're a full-service kitchen remodeling contractor that can update your kitchen from top to bottom.  If you are looking to enhance the look of your kitchen, our 10-day kitchen remodel program is a great option.
The upgrades and additions our team can bring to your kitchen include:
Cabinetry, countertops, and islands
Backsplashes
Sinks and plumbing
Flooring
Lighting
Electrical work
We also back our work with generous warranties and go out of our way to keep our workspace clean.
Contact Us Today
To learn more about the kitchen remodels we complete for East Elmhurst, NY, homeowners, contact Alure Home Improvements today. Our friendly and knowledgeable team looks forward to working with you and helping you achieve the kitchen of your dreams.
FREE Stainless Steel Bosche Dishwasher ($750 Value) With Complete Kitchen Remodel
For a limited time only, get a FREE Bosche Dishwasher (Model #SHE3ARL5UC) with your Complete Kitchen Remodel PLUS NO money down, NO payments, NO interest for 18 Months* - Act now! *SUBJECT TO CREDIT APPROVAL. Offers are for the stated time period only and may not be combined with any other offers, promotions or discounts. Some restrictions apply. Offer not applicable in all counties due to Consumer Affairs Restrictions. Offer not applicable in or to residents of New York City.