Best-in-Class Kitchen Remodel Services Available to Homeowners in Bayside, NY
The kitchen is the heart of any home. Therefore, it should be functional, beautiful, and capable of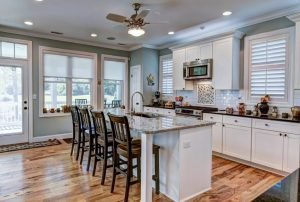 serving all of your wants and needs. If the kitchen in your Bayside, New York, residence needs an update, don't stress, the professionals at Alure Home Improvements are here to help. We have over 75 years of experience under our belt, so you can feel confident that our team has the skills and experience needed to complete your kitchen remodel flawlessly.
The Kitchen Remodels We Complete
We're a full-service kitchen remodeling contractor that can elevate your space from top to bottom. If you want to enhance the look of your kitchen but don't want to commit to a time-intensive project, our 10-day kitchen remodel program is a smart choice.
At Alure Home Improvements, we can take care of every aspect of your kitchen remodel. This includes:
Cabinetry, countertops, and islands
Backsplashes
Sinks and plumbing
Flooring
Lighting
Electrical work
Our team will help you find the best and most cost-effective options for your kitchen remodeling project. We also back our work with generous warranties and go out of our way to keep our workspace as clean as possible.
Contact Us for a Kitchen Remodel Today
To learn more about the kitchen remodels we complete for Bayside, NY, homeowners, contact us today to set up your free consultation. We look forward to working with you and answering any questions you may have.
Alure Online
Specials
View A Complete List Of Our Specials
Some restrictions apply, click the button below for more details.