Gorgeous Kitchen Plans for Homes in Suffolk County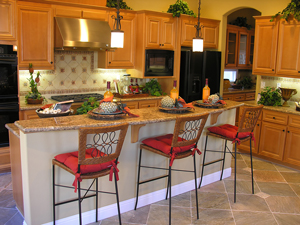 The kitchen plans that our team of designers put together for homes in Suffolk County are second-to-none. An integral component of the kitchen remodeling process, the initial design is created using input from the homeowner. This step is essential in designing a new kitchen that will not only look great in the home but also meet your unique practical needs.  Above all else, we want to make sure that you're completely thrilled with your newly remodeled kitchen, and this commitment to personalized service when the kitchen plans are being created is essential.
One of the advantages to turning to Alure Home Improvements for your kitchen renovation is that our team of home remodelers has made a commitment to becoming specialists in their field of expertise. As a result, we are proud to have team members on staff who are experts in everything from interior design to space planning. We understand that deciding to remodel your kitchen is a big choice. You want to make sure that you'll love the finished product. That is why we put such a premium on giving you all of the resources that you may need to make your kitchen dream come true. We never take a one-size-fits-all approach to our kitchen plans because your expectations for your kitchen are as unique as you are.
In addition to offering traditional kitchen remodeling, we have also developed our own 10-Day Extreme Kitchen Remodeling service. This unique approach to kitchen design is perfect if you love the current general layout of your kitchen but are in need of a change. Assuming that you don't need any walls or fixtures moved, we're able to complete the entire remodel in just 10 days, much less time than you might otherwise expect.
The best way to learn all about our kitchen remodeling service and begin to explore kitchen plans for your home in Suffolk County is to schedule a consultation with a designer today. Contact us for more information or stop by our conveniently located showroom in East Meadow, New York.
Extra 5% Savings + 25% off Install!
For a limited time only, save and extra 5% on your project PLUS 25% off Install AND NO money down, NO payments, NO interest for 18 Months* - Act now! *SUBJECT TO CREDIT APPROVAL. Offers are for the stated time period only and may not be combined with any other offers, promotions or discounts. Some restrictions apply. Offer not applicable in all counties due to Consumer Affairs Restrictions. Offer not applicable in or to residents of New York City.