Exploring Various Kitchen Layouts for Your Home in Wantagh, Merrick, Levittown, Throughout Nassau County & Across Long Island, New York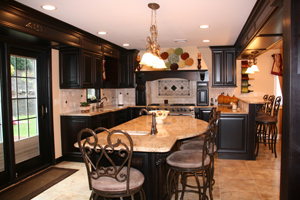 At Alure Home Improvements, we pride ourselves on providing local homeowners with kitchen layouts for their Nassau County home that will fully meet their unique needs and expectations. Our team of experienced designers utilizes a state-of-the-art software package that can be used to create custom kitchen layouts in our showroom in East Meadow. By looking at the floor plan of the kitchen, the homeowner is able to better visualize what their new kitchen will look like, making the entire design process much easier and providing peace of mind that the remodel will look great when it's completed.
When you turn to Alure Home Improvements to help you remodel your kitchen, you can be certain that we have the experience and expertise needed to get the job done on time and on budget. In fact, since 1946, we have worked with local homeowners to design and install kitchen layouts that beautifully complement their homes. Our team prides itself on managing every aspect of the remodel process, from the initial design phase through the completion of the project. A dedicated supervisor is also assigned to every home remodeling project and will work with the homeowner to make sure they understand the status of construction and are thrilled with the final result.
In addition to helping homeowners with their kitchen remodeling project, we offer several other services to homeowners in Nassau County, including:
Basement finishing
Roofing
Sunroom installation
Siding
Replacement window installation
To learn more about the benefits of turning to Alure Home Improvements for your kitchen remodeling needs, contact us today. A kitchen remodeler will be happy to walk you through popular kitchen layouts and help you design your dream kitchen.
Extra 5% Savings + 25% off Install!
For a limited time only, save and extra 5% on your project PLUS 25% off Install AND NO money down, NO payments, NO interest for 18 Months* - Act now! *SUBJECT TO CREDIT APPROVAL. Offers are for the stated time period only and may not be combined with any other offers, promotions or discounts. Some restrictions apply. Offer not applicable in all counties due to Consumer Affairs Restrictions. Offer not applicable in or to residents of New York City.