Kitchen Design – Huntington
Design the Kitchen of Your Dreams for Your Home in Huntington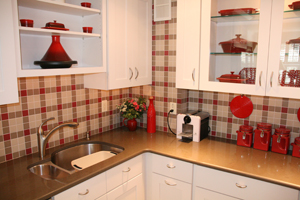 When you start to think about upgrading the design of the kitchen in your Huntington home, it can be extremely helpful to have kitchen remodeling specialists on hand who you can rely on to help you along the way. At Alure Home Improvements, our highly experienced team is well-versed in the latest kitchen design trends and installation techniques, and will gladly work with you to help you turn your dreams into reality. If you're thinking about remodeling your kitchen, look no further than Alure Home Improvements.
Since 1946, Alure Home Improvements has helped local area homeowners with their home remodeling needs. Our dedicated kitchen remodeling professionals have seen it all and know what it takes to design a kitchen that not only looks great but also meets the practical needs of the homeowner. In fact, we have several Certified Kitchen Designers (CKDs) on staff who each have at minimum:
Three years of full-time kitchen design experience
Successfully passed the Association of Kitchen and Bath Designers (AKBD) academic exam and CKD design exam
Two professional affidavits and two client references
60 hours of National Kitchen and Bath Association (NKBA) development courses or other approved coursework
These extremely knowledgeable and talented professionals can work with you to learn about your design preferences and expectations for your kitchen in order to help you create the kitchen that is right for your home. Then, once a kitchen design plan has been agreed upon, our dedicated remodelers will handle every step of the project, whether you're simply making superficial changes, like replacing cabinets and countertops, or you need walls knocked down and a whole new kitchen layout. No matter the size and scope of the project, we can meet your needs and will exceed your expectations.
To learn about how we can help you design the perfect kitchen for your Huntington home, contact us today. You're also welcome to visit our showroom in East Meadow, New York, to explore your options in person.
Extra 5% Savings + 25% off Install!
For a limited time only, save and extra 5% on your project PLUS 25% off Install AND NO money down, NO payments, NO interest for 18 Months* - Act now! *SUBJECT TO CREDIT APPROVAL. Offers are for the stated time period only and may not be combined with any other offers, promotions or discounts. Some restrictions apply. Offer not applicable in all counties due to Consumer Affairs Restrictions. Offer not applicable in or to residents of New York City.